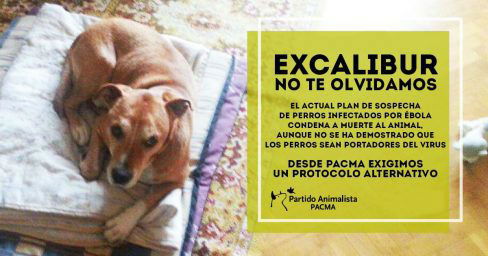 IN October of 2014, Spanish nursing assistant Teresa Romero became the first recorded victim of the Ebola disease outside of West Africa.
She was a nurse at the Carlos III hospital in Madrid and was helping to treat two Spanish missionaries who had contracted the disease in Africa but when one died, she was tested and was found to have contracted the virus herself.
Whilst she was given the best treatment possible and recovered, her dog, Excalibur which was a trained rescue dog was seized by the authorities, declared a possible carrier and was put down despite opposition from the political party Pacma, animal lovers and even some scientists who thought that it would be very valuable as a subject for tests.
After her recovery and with the support of her husband she sued the Spanish Ministry of Health for damages of €150,000 for the los of Excalibur and the heartbreak caused but the Supreme Court has not only dismissed her claim but has awarded costs of the trial against her.
Political party Pacma which was formed in Spain to protect the rights of all animals not only blames the government for incompetence in this case but is demanding that a new contingency plan should be put into place which doesn't simply call for the immediate euthanasia of any animal.