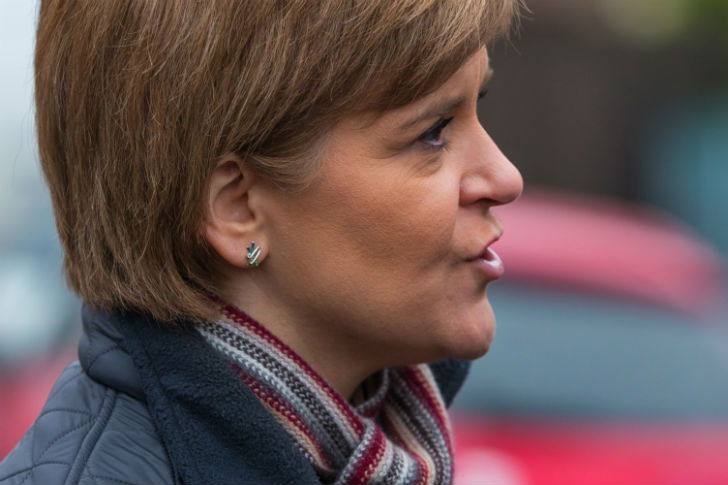 WELL, not many of us saw that coming.
Theresa May's announcement of an early election caught just about everyone on the hop. Not least the SNP's pincer mouthed pain in the butt Nicola Sturgeon.
I'd like to be a fly on her bedroom wall. Instead of waking up every morning screaming 'freedom,' she now actually has to think of other benefits and policies her tunnel vision party can produce for her Scottish contituents.
Corbyn couldn't wait to jump up on his wobbly, geriatric soap box. Not having time to liaise with his speech writers, he proceeded to spout rhetoric which is so archaic he has undoubtedly blown the cobwebs off diatribes he wrote and delivered as a Hammer and Sickle inspired student decades ago.
This Dinosaur throwback will never be happy until the Red Flag flutters atop parliament and he and his cronies travel to work in special 'party member' transport lanes, while his supporters all line the route wearing those silly brown Mao hats.
UKIP's initial gambit has been predictably unpredictable, announcing its manifesto will include the banishment of the Burka in public places ( don't forget millions scorned their announcement of their Brexit intentions!)
And finally, despite their denials, the Lib Dems are hoping once again to scrape into power on the coattails of… well, just about anyone.
The only thing the Conservatives have to worry about is complacency. Nothing in this world is a foregone conclusion.
Let's hope the weight of turnout reflects this attitude across the nation. Meanwhile, over the Channel, the fiery right wing challenger Le Penn continues to gain popularity.
If she is successful, be prepared for a 'Non, je ne regrette rien' 'Frexit' and the subsequent 'Dominexit' effect I forecast some time ago.
Well this week has been quite an eventful occasion for me personally. At one mixed emotional point, I found myself driving my twins, now approaching 17, to their first job interview.
As a single parent for the past five years or so, it has been a long old haul and not always easy to achieve my avowed intent to make up, both physically and emotionally, for the lack of a Mum in our household.
However with prayers and a little help from friends along the way, they are now just about ready to venture into those great areas of adult uncertainty.
No one could be more proud of them than I, they are a true credit to their old Dad and I wish them a positive deluge of love and luck in their future endeavors.
Having been circumstantially forced to become a bit of a reclusive homebody over the last few years, I now find myself with a little more time on my hands.
So look out all you socialites, the old Leaper is back!
My eldest Granddaughter has also informed me that in six months I will become a GREAT!
Love, peace and congrats all around.
Funny old life ennit?
Keep the faith Love Leapy