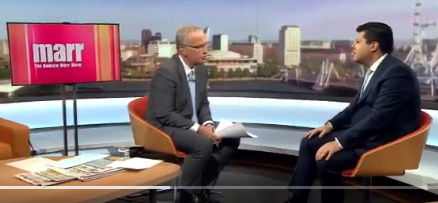 GIBRALTAR'S Chief Minister Fabian Picardo was a special guest on the BBC TV Andrew Marr show which was being presented by Eddie Mair on Sunday April 2. He had flown over specially for the interview.
Mair took a surprisingly aggressive stance all through the short interview, asking why Gibraltar had not managed to get itself mentioned in the Article 50 letter and then suggesting that it wouldn't a bad thing for day to day existence if there was shared sovereignty.
Mr Picardo handled all of the questioning exceptionally well, explaining that Gibraltar had been involved in the wording of the document and was tangentially represented as the letter referred to the White Paper in which Gibraltar certainly mentioned.
He went on to say that the people of Gibraltar had every belief in the integrity and support of the British government and that the Tusk letter was simply a 'wish list' and had to be ratified by all 27 member states and there was no guarantee that point 22 would be included.
Finally, he pointed out that by including this particular suggestion that no approval to trade deals post Brexit should be made without approval by Britain and Spain showed that the EU was not openly supportive of Spain's sovereignty claims.
With his perfect diction and a razor sharp intelligence, Mr Picardo will have certainly impressed British viewers with his ability and absolute conviction to the cause of the Territory.