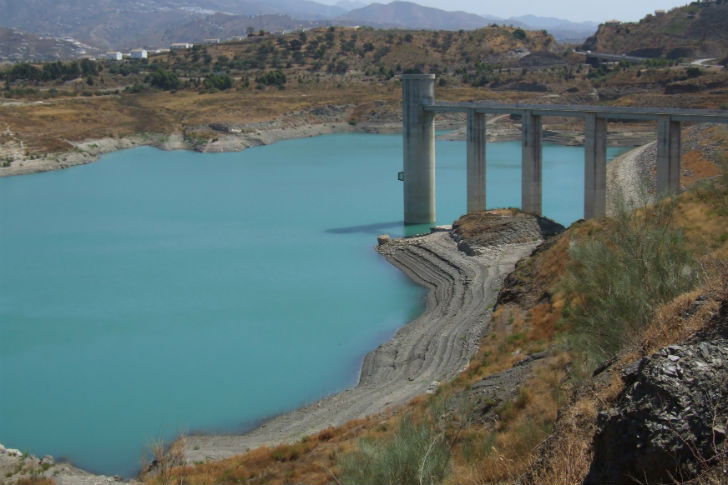 AGRICULTURAL groups have warned that if spring rains fail to increase resources, tight water restrictions might have to be applied across Axarquia this summer.
The Viñuela reservoir, the largest in the province, is at 40 per cent of capacity, well below the average for the last 10 years.
Another mild, relatively dry winter has now led to fears over how irrigation and Malaga's agricultural sector will be affected during the coming summer.
President of the Agrarian Association of Young Farmers (ASAJA), Baldomero Bellido, has insisted that despite the recent wet weather, the reservoirs are struggling for the third consecutive year.
Rain storms over the winter months have been highly localised, with dramatic flooding incidents on the coast while inland reservoirs received little water. The mild weather has already upset olive production, with harvests well below expectations, although this was compensated for to an extent by higher oil prices. Meanwhile, Avocado farmers are set to make a profit despite the arid weather conditions.
Regardless of this, the Trops collective of growers have stressed that the situation is far from ideal. "It has to rain more now," they said in a statement.
"Otherwise, our success will depend on whether the promised works to improve irrigation infrastructure are completed or not, whether that involves connecting the Rio Chillar to the Viñuela system or to have surpluses elsewhere." Bellido made it clear that the Junta de Andalucia needs to address the problems in the Viñuela reservoir, "since avocados and mangoes, alongside olives, have become one of the most important economic pillars of the agricultural sector in Malaga."
The onus is now on the Andalucian government to take action, according to the growers, although their repeated requests to divert yet more rivers and natural resources towards a booming subtropical fruit industry is likely to be met with howls of derision from environmental groups.