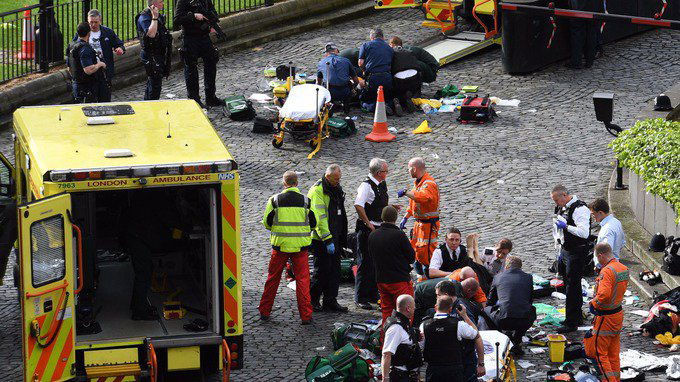 FIVE people died and 40 were injured in Wednesday's terror attack in Westminster, London.
Unarmed policeman Keith Palmer, of the Parliamentary and Diplomatic Protection Command, was fatally stabbed by the knife-wielding attacker who was shot dead by armed officers. Three others died, one a woman who was hit by the attacker's car on Westminster Bridge.
The injured include three police officers, French schoolchildren and South Korean students. One woman was pulled alive from the river Thames, but with serious injuries.
Acting deputy commissioner Mark Rowley, the Metropolitan Police's top anti-terror officer said the working assumption was that the attacker was "inspired by international terrorism" and "Islamist-related terrorism", but would not comment on his nationality or any other details.  He said police were focusing on the suspect's "motivation, preparation and associates".
Prime Minister Theresa May speaking after a COBRA meeting said the  UK's threat level has been set at "severe" – meaning an attack is highly likely – for some time and this would not change.
She said the attack was: "sick and depraved" and struck at values of liberty, democracy and freedom of speech."
Spanish Prime Minister Mariano Rajoy also condemned the deadly attack  on Wednesday and offered condolences to the British people in a telegram sent to his British counterpart Theresa May.
"An execrable terrorist act like the one that took place today is a reminder that we face complex challenges for the security of our societies," said Rajoy.
"We must remain united against these type of threats that affect all of us equally and that know no barriers," Rajoy wrote, offering Spain's support to the UK.
President of the United States of America, Donald Trump, tweeted: "Spoke to UK Prime Minister Theresa May today to offer condolences on the terrorist attack in London. She is strong and doing very well."
In an act of solidarity both the House of Commons and the House of Lords will sit on Thursday at their normal times.
As the investigation continues police raided an address in Hagley Road, Birmingham overnight.