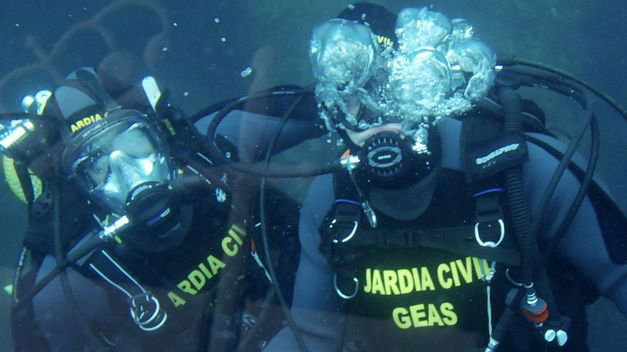 A GUARDIA CIVIL officer has been seriously injured after being hit by a speeding vehicle that was involved in a drug smuggling operation in Algeciras.
The officer was dragged several metres by the car and sustained lower body injuries in the hit-and-run.
When the officers arrived at the scene they spotted two people on a motorbike carrying a bale of cannabis resin. As they tried to intercept the motorbike, an unlit vehicle smashed into one of the officers  before speeding off.
After the Guardia Civil searched the vicinity three bales of cannabis resin  were recovered.
This follows a several other recent drug smuggling incidents in the area.
The Guardia Civil's underwater search division (GEAS) recently recovered 17 bales of hashish that were found floating in the port of Algeciras.
The drugs were detected by a land patrol of the Maritime Service, which was carrying out inspection work on the exterior of the Isla Verde dam.
Members  of the GEAS had to carry out a dangerous recovery  due to the choppy coastal waters and high winds at the time.
But the divers were able to tie the hash bales together with a rope and recovered 567 kilos of drugs.