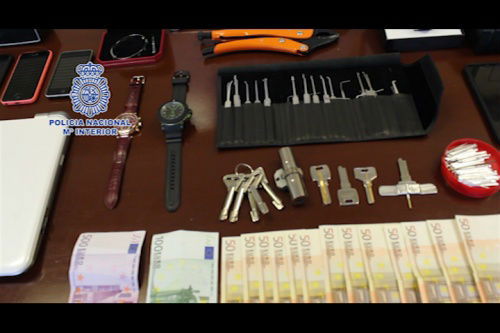 FIVE individuals have been arrested in Madrid known to have been involved in robberies in that city, Barcelona and Denia although it is suspected by the National Police that they may have been involved in other robberies throughout Spain.
The crooks followed the same 'modus operandi' during each of five burglaries in their hometown of Madrid and additional robberies in the other cities, whereby they visited their targeted victims, pretending to be technicians employed by companies involved with telephones or alarm systems to allow them to obtain access to and a general idea of the systems in place.
They then returned to their targeted homes or offices at a later time, breaking into the properties, forcing locks, nullifying alarm systems and using acetylene torches to open safes with their proceeds of theft well exceeding €20,000.
Following identification and arrest, officers of the National Police found €2,137 euros in cash, nine mobile phones, two tablets and a laptop, six watches jewellery, skeleton keys and documents giving details of how to pick locks.