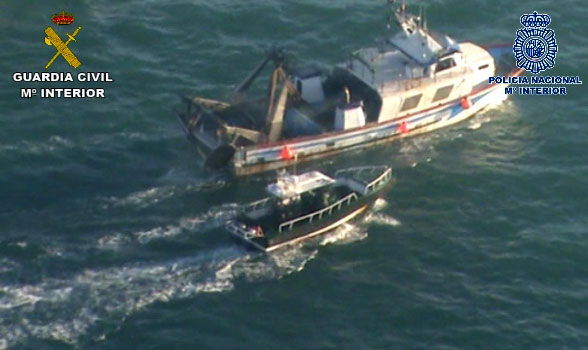 SPAIN'S Guardia Civil has arrested 17 members of a group that was using fishing boats to import drugs from Morocco.
More than two tonnes of hashish has been recovered as well a large amount of cash, two fishing boats, a recreational boat, a refrigerated truck and four cars.
Those arrested have been charged with drug trafficking and belonging to a criminal organisation. In addition, two of them are charged with illicit possession of firearms, threats and gender-based violence.
Officers arrested the 17 members of the gang in simultaneous raids in Cadiz, Sevilla, Malaga, Ceuta and Huelva.
The investigation began last June with the National Police working alongside the Guardia Civil.
The group collected the drugs out at sea. Then, once the boats docked back in Spain, the drugs were unloaded to a refrigerated truck. The cargo was then taken to rented properties in Chiclana de la Frontera.
The catch of fish on the day that the boats were seized was delivered to the food bank in Cadiz.