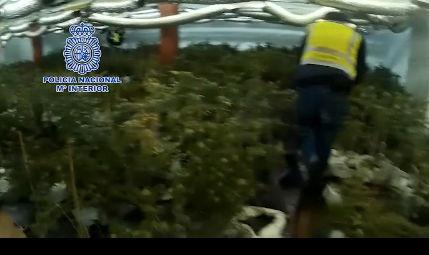 AFTER detecting a very strong smell of marijuana coming from a property in Leon, officers from the National Police obtained a court warrant to allow them to enter the property and see what it contained.
Having made a forced entry, they discovered a single Chinese male who was responsible for the cultivation of several thousand marijuana plants within the property and it transpired that the building contained 140, 600 watt lamps which used as much electricity as a small factory with  all of the electricity being stolen from mains.
Whilst at this property, the officers found details of a second address and upon entering those premises, they discovered another Chinese male, many more plants and bulbs also using stolen electricity.
Following the arrest of the two men and confiscating 3,523 plants, the officers established that they had not left the premises for several months and were existing in what were described as sub-human conditions in order to try to escape detection.