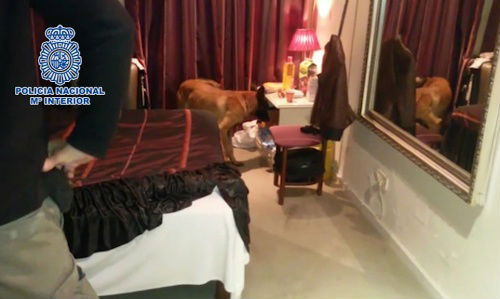 FOLLOWING a call to the special free number 900 10 50 90, officers of the National Police were alerted to the fact that a number of women, including one who had been involved whilst a minor, were being made to take drugs and act as prostitutes in a number of 'clubs' in Malaga.
It transpired that a woman was running a number of these girls who were required to act as prostitutes, paying half of all of their income to the Madam plus paying extortionate rates for the bedrooms in the brothels (which were presented as hotels) in which they both worked and lived.
After investigation, officers raided a number of properties, arresting 21 people and releasing four girls who were the victims of this crime.
During the raids, officers seized a number of documents, computers, mobile phones, drugs, a shotgun and €6,461 in cash. In addition, the officers were able to block a number of bank accounts and seize properties with a combined value of more than €4 million.
This operation is part of the National Police Plan against trafficking in human beings for sexual exploitation, which in 2016 has already seen the force investigate 400 cases.