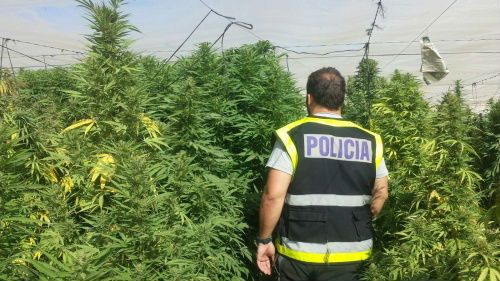 Officers of the National Police have seized 1,200 plants estimated as being able to produce 800 kilos of marijuana in a large plantation in the village of Alcolea in Almeria and have arrested two individuals thought to be responsible for cultivating the plants.
It was only in mid-September that the police were alerted to the fact that a group of people were cultivating the drug in the area of Alcolea and after several days of combing the area, they discovered a farm with a number of greenhouses which would have been suitable for the growing of marijuana plants.
Subsequent to this, the officers arrested two men in Ejido who had in their possession two and half kilos of the drug, so the officers decided to raid the suspect farm which is where they found the plants growing in one of the well irrigated greenhouses as well as a number of items associated with the cultivation of the drug together with a pistol.