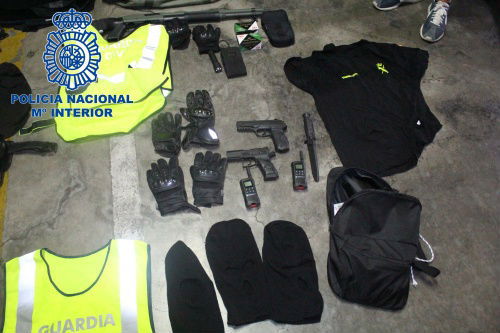 SEVEN members of an organised criminal gang, four of them Guardia Civil officers, have been arrested after it emerged that they were using confidential police information to steal drugs from traffickers for their own profit.
The other three detainees comprise two business owners and a security guard, with the crooks rounded up after they stole 69 kilos of hashish from a Moroccan cabal based on the Costa del Sol.
Two of the policemen arrested are posted in La Rioja and La Coruña, respectively, while the other two are reserve officers based in Navarra and Galicia.
The gang had arranged to meet the North African dealers in Marbella in order to buy the drugs, with two of them posing as traffickers, but as the exchange was about to take place the other five members, who were dressed in full Guardia Civil uniform, moved in.
They proceeded to tie the Moroccans up and abandon them in a field before making off with the stash.
National Polive investigators have confirmed that five of the group then drove to La Rioja where they intended to distribute their haul, but they were arrested before they were able to do so.
Arrests were made in Casabermeja (Malaga), Guarroman (Jaen) and Logroño (La rioja).
Raids were also carried out on addresses in La Coruña, during which a number of firearms, bullet-proof vests, mobile phones, and items of Guardia Civil uniform and other paraphernalia were seized.
The men now face charges which could lead to twenty years in prison for each of them.