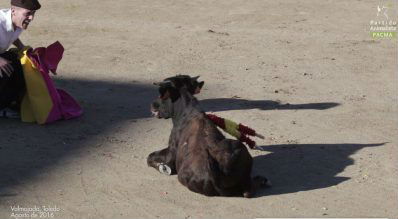 ANIMAL rights party Pacma which is slowly but surely tweaking the conscience of the Spanish people has released a video showing a young bull calf of less than two years of age being treated as if
It was taking part in a 'proper' bullfight.
The venue for this event was in the bullring of the town of Valmojado in La Mancha, although this event reportedly takes place in many towns around Spain where a young calf is attacked by boys and young men who take turns to taunt the animal, stabbing it with darts before its eventual slaughter with a sword.
There has been a huge outcry on social media about this event but the local council not only defends this long standing tradition but is taking advice on whether to take legal action against Pacma for bringing the good name of the town into disrepute.