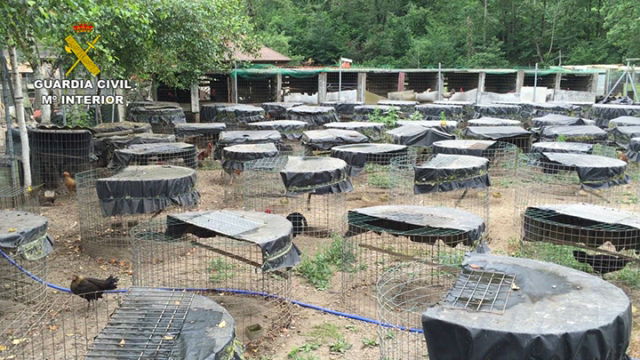 IN AN operation codenamed 'Pugnator' officers of Seprona have arrested 17 people in the area of Asturias, Bizkaia and Cantabria suspected of the regular offence of animal abuse as they were conducting cock fights.
According to Seprona they have also 'liberated' 217 Spanish fighting cocks with an estimated value of €100,000. Working with the Cantabrian Ministry of Rural Environment, Fisheries and Food, the bodies of five dead roosters were initially recovered and it was determined that their death was caused through fighting.
Officers raided a house in Santiago de Cartes, discovering a cock fighting ring with two injured birds and arrested 11 people including a minor and seizing €600 which were bets on the outcome of the fight.
A few days later, Seprona arrested another six people including one from the Dominican Republic who is allegedly the trainer of the fighting birds.
In a follow up investigation, officers found 179 more birds believed to be intended for the ring. This is an on-going investigation and Seprona believe that a number of the roosters may have been stolen from innocent owners and are trying to trace anyone who may have lost their birds.