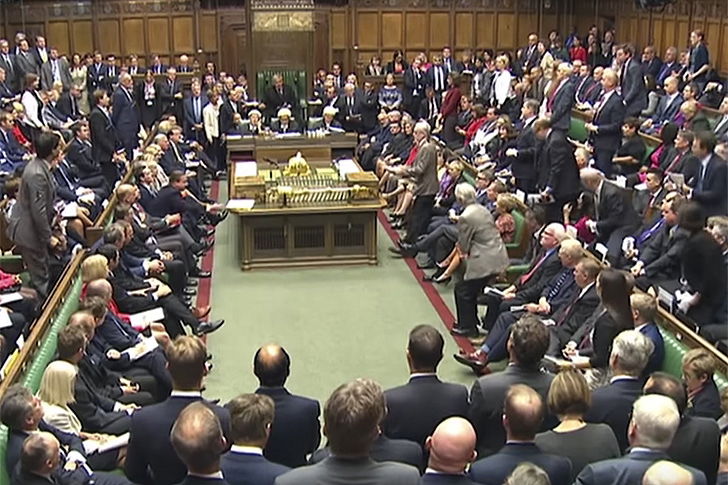 TWO weeks ago an oddly hesitant yet gainfully employed David Cameron sparred with an austerity bashing Jeremy Corbyn at a lacklustre final Prime Minister's Questions before the Brexit vote. 
At noon today they faced off again in a highly unusual post-referendum parliamentary universe in which Cameron has already announced his resignation, while Corbyn finds himself in the throes of a full scale revolt from Labour MP's, who yesterday passed a no-confidence motion in his leadership. 
Earlier this morning the SNP suggested that it should become the official Westminster opposition, mischievously pointing out that Corbyn now enjoyed the support of only 40 MP's while the Nationalists count 54 firmly behind their House leadership. 
As is tradition, the prime minister began by expressing his support for the victims of the latest terrorist attack, a sympathy echoed by Corbyn before the fencing begins, conceivably for the last time if the SNP have their way. 
On to the giant white elephant in the room, Corbyn asks the prime minister what impact the lowering of Britain's credit rating will have on pension funds. To which Cameron replies that he simply doesn't know, but these are sure to be "difficult economic times". 
Asked what he is doing to help counter a worrisome rise in racist attacks across the country, Cameron announces the publication of a "new hate crime action plan" and speaks of his reassurances to the Czech, Romanian and Polish prime ministers at the two-day EU summit he attended for one day. 
Corbyn cannot resist temptation and has a cheeky dig, asking Cameron whether he will leave a One Nation legacy, in reference to the starry-eyed days of call-me-Dave's compassionate conservatism circa 2005. 
The prime minister snipes back, suggesting that Corbyn take his share of the blame for the Brexit vote and remarking that, while it might be in the Tories interests for him to stay, for the future of the nation "for heaven's sake man, go". 
PMQs concludes with Cameron again condemning Nigel Farage's notorious 'Breaking Point' poster and being unable to guarantee the status or fate of EU nationals living in the UK until Brexit negotiations are complete.