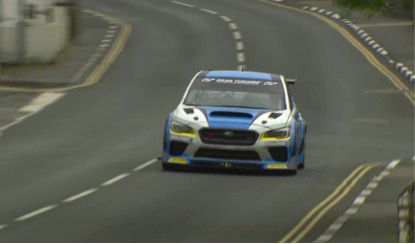 MARK HIGGINS broke his own Isle of Man record for cars by completing the 38 mile course TT course in a speedy 17 minutes and 35 seconds, at an average speed of 128.73 mph.
The time is a solid 80 seconds ahead of the previous official record Higgins set back in 2014.
Driving a highly modified Subaru WRX STI with nearly 600 hp, Higgins had a massive advantage over his previous attempts in rustier vehicles.
Higgins has won the British Rally Championship three times and is also a professional stunt driver but isn't the fastest on the island, with biker Michael Dunlop managing a lightning fast 16.58 on a BMW S1000 RR Superbike.