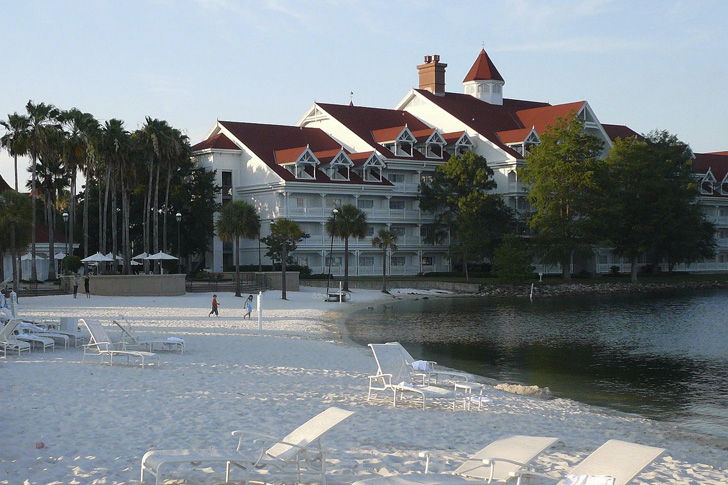 UPDATE: THE body of the young boy has now been recovered by divers, and he has been identified as Lane Graves, who was on holiday from Elkhorn Nebraska, with parents Mike and Melissa.
Sheriff Jerry Demings said: "There's no question in my mind that the child was drowned by the alligator.
He added that he had informed the child's parents of the news with the help of a Catholic priest.
"It was a tough message to deliver to them. The family was distraught but somewhat relieved we were able to retrieve their son with his body intact."
Nick Wiley of the Florida Fish and Wildlife Conservation Commission said that officials had captured and destroyed five alligators from the lagoon overnight, adding that because the boy's body was recovered intact and close to where he was last seen: "There's a good chance we already have this alligator."
Disney World is now coming under criticism for not placing warning signs about the presence of the predatory reptiles in the lake, as at many other tourist resorts in the area, and has closed all of its beaches for the time being.
Florida is home to an estimated one million alligators, although attacks on humans are very rare.
---
A TWO-YEAR-OLD boy was attacked by an alligator and dragged into a lagoon at Disney's Grand Floridian Resort and Spa in Orlando on Tuesday June 14, police have said.
The child's father suffered minor injuries as he futilely attempted to extract his son from the reptile's jaws, after the boy was ambushed as he paddled in 30 centimetres of water with his parents and four-year-old sister, despite the presence of 'no swimming' signs.
More than 50 officers are now searching for the toddler, whose family had been on holiday from Nebraska, although there is apparently little hope of finding him alive.
Alligators are known to inhabit the Seven Seas lagoon, which occupies the centre of the Disney World complex, although they are removed once they reach 120cm in length, or if they start approaching guest areas.
Orange County Sheriff Jerry Demings said: "There is a sandy beach area and the family was out simply relaxing … and in the water along the lake's edge at the time the alligator attacked the child.
"It's my understanding the father was there nearby and the child was playing in the water, just a foot or so into the water, and the alligator came up.
"The father at some point struggled to try to get his son and was not successful and then alerted others to try and assist him in the process.
"At some point I am told the mother may also have entered the water. The parents diligently tried to get the child."
A Disney spokeswoman said: "Everyone here at the Walt Disney World resort is devastated by this tragic accident. Our thoughts are with the family. We are helping the family and doing everything we can to assist law enforcement."