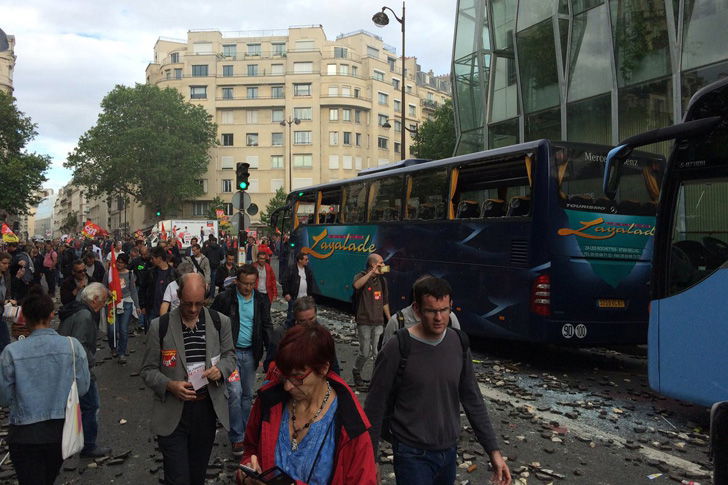 THE French government has seen demonstrations across the country during the past few weeks against their proposed labour reforms, but things came to a head on Tuesday June 14 when an estimated 75,000 demonstrators converged on Paris as the upper house of the French Parliament (the largely unelected Senate) met to review the proposed new employment laws.
Things turned nasty and there were reportedly 40 people injured in violent clashes, the bulk of them police officers and in addition there were 58 arrests. To some extent, the number of violent demonstrators was likely to be a small proportion of those protesting, as the authorities reported that "several hundred masked people" were involved in throwing paving stones, breaking shop windows and starting small fires.
Police and other vehicles were set on fire and they responded with tear gas and water cannons. There was so much chaos in the city that the even the Eiffel Tower was closed due to strike action, whilst transport was disrupted by additional strikes by rail workers, taxi drivers and Air France pilots.
The protests weren't restricted to Paris and additional demonstrations were organised around the country, with unions estimating that over one million participated whilst the authorities gave the much lower figure of 125,000.
At the moment, with violence erupting in Paris, the ever-present threat of additional terrorist attacks and battling crowds at some of the Euro 2016 football matches, France is not the happiest of countries to be visiting.
French Interior Minister Bernard Cazeneuve is quoting as saying he could "no longer bear the attacks against the police," and called on protesters "to find within themselves a little humanity, tolerance and respect".