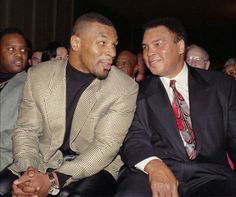 NO MATTER how much or how little you know about boxing, one name, that of Muhammad Ali (formerly Cassius Clay) will be universally recognised and now this man who had been fighting all of his life for recognition, religious and racial tolerance and for the last 32 years against Parkinson's disease finally died at the age of 74 on the evening of June 3.
Admirers having been queuing up to express their sorrow for his passing and their respect for all that he had achieved both in and outside of the boxing ring. Former boxers have agreed that he was indeed the 'Greatest' and Mike Tyson tweeted "God came for his champion. So long great one."
Despite the fact that his illness had robbed him of the ability to react lightning fast when speaking and to spar verbally with anyone, he still had plenty to say especially if he considered that someone was acting improperly or against the best interests of those he represented.
Thus in December of 2015 he made it clear that he totally disagreed with Donald Trump's avowed intent to ban Muslims from entering the United States. Saying "We as Muslims have to stand up to those who use Islam to advance their own personal agenda."
This was typical of the three times World Heavyweight Champion who thrilled boxing fans everywhere with his skill, speed and obvious love for a barbed comment, often delivered with a glint in the eye.
His funeral will take place shortly in his hometown of Louisville, Kentucky and it is likely that it will attract a very large crowd of mourners, well-wishers and boxers.