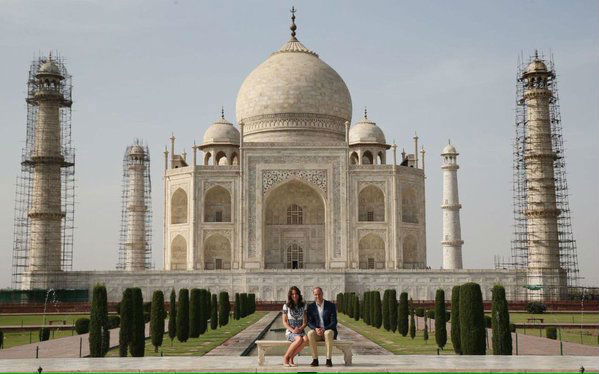 THE internet has been inundated with photos of one of the world's most famous couples in front of one of its most famous monuments.
On Saturday April 16, Prince William and his wife Kate, the Duchess of Cambridge, sat atop the very same marble bench where Princess Diana posed for a famous photo 24 years ago, but the difference between the two images couldn't have been any more striking.
Whereas the picture of Diana depicted a young woman looking lost and lonely in the dying days of a crumbling marriage, the radiant smiles of young William and Kate glistened as bright as the towering marble monument in the background.
The royal couple strolled around in blistering temperatures of up to 41C as they were treated to a private tour of the mausoleum and the grounds.
The visit to the Taj Mahal came on the heels of a trip to Bhutan, where the youthful twosome got up and close and personal with another young celebrity couplet, Jigme Khesar Namgyel Wangchuck and Jetsun Pema, also known as the 'Dragon King and Queen' and sometimes even dubbed the 'William and Kate of the Orient'.