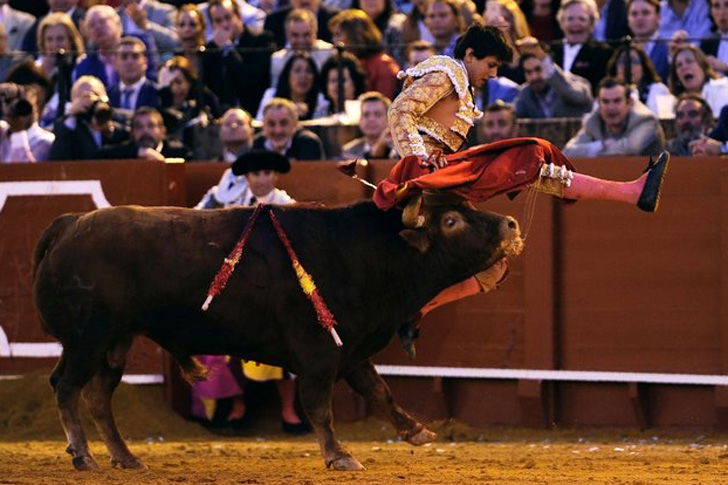 DRAMATIC scenes unfolded in the La Maestranza bullring in Sevilla, Spain over the weekend of April 9 when Peruvian matador, Andres Roca Rey, 19, was lucky enough to walk away with just minor injuries after a 1,176lb bull almost impaled him. 
There was terror in the bullring when onlookers watched on aghast after the beast lifted the matador with his left horn and shook him around whilst the fighter screamed in horror. Blood poured from his leg and it looked as though Rey had sustained more severe injuries in his private areas. Although it later transpired that it was the blood of the bull rather than his.  Fellow matadors were quick on the scene in bids to distract the bull from further damage. 
Rey then managed to wrestle free from the horns and fell to the ground. The matador then took a victory lap as he was applauded by the throngs of onlookers including the former King of Spain, Juan Carlos.
There is no rest for the wicked with Roca Rey due back in the ring on Tuesday April 12, whilst a statement from the fighter made light of his brush with death.
Roca Rey has previously come close to death. Last November he lost two teeth after a bull thrust his horn into his mouth. 
When matadors are hurt, the injuries can be gruesome. In October 2011, Juan Jose Padilla was blinded in one eye by a horn. It didn't take long for him to bounce back and he was fighting six months later, this time with his now-famous eye patch. Worldwide, the last matador to die was Colombian Jose Eslava Caceres, who was trapped against boards at the edge of the ring in 1987, and suffered a fatal piercing of the lung.
Bullfighting is a "supremely dangerous art," says professor of human-animal studies at Roehampton University and bull-fighting expert Garry Marvin. "If a normal person got into the ring with a fighting bull, I'd expect them to be severely gored or dead in a few moments." Matadors are highly-skilled and many may go several seasons without injury.