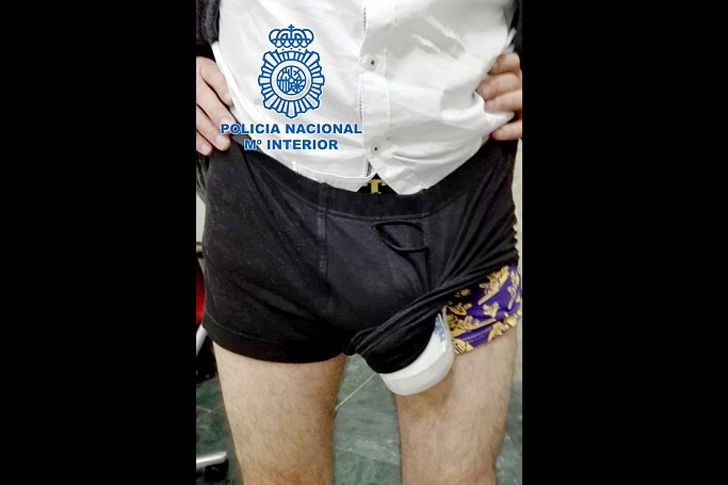 SHARP-EYED Spanish customs have arrested a man for smuggling cocaine after they noticed an unusually large bulge in his pants. 
A 43-year-old man flying from Costa Rica to Madrid had strapped a large plastic container to his nether regions in the hope of smuggling over a pound of cocaine into Spain. 
After finding nothing in his hand luggage officers turned their attention to his trousers and the large object between his legs. The optimistic smuggler had hidden the package under a couple of boxer shorts, a black pair and also one with a bright floral design. Spanish police officers couldn't help finding the funny side and they tweeted a picture and the message saying they had found 'a suspicious package between his legs'. 
But the yet to be named detainee, of course, was far from amused as he went before a judge yesterday to be told he could face up to three years in prison if found guilty. 
Customs at Madrid airport have seen numerous drug smugglers resort to novel ways in which to get their contraband into the country. Drugs stashed in wigs, prosthetic limbs and fake disabled people with drugs stashed in clothes. 
Spain's ties with former colonies in Latin America, a major cocaine-producing region, have made it a popular entry point for smugglers trying to access Europe.