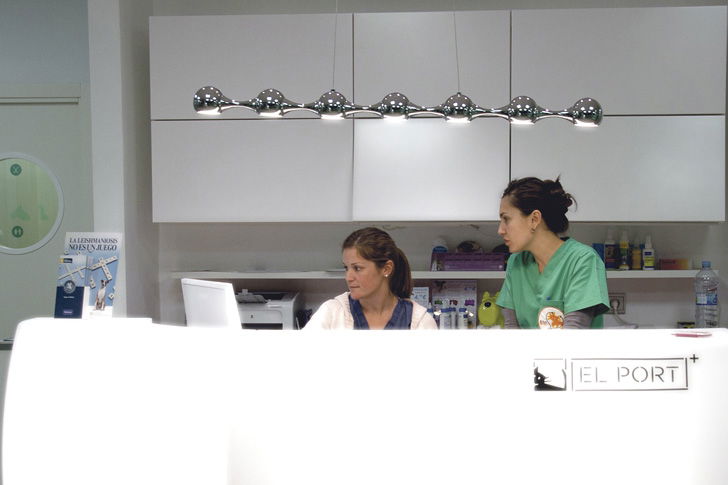 OPENED 16 years ago, the El Port Clinica Veterinaria has been part of the Altea scenery for quite some time. Antonio Candela Sanchis bought a run-down surgery and set about building it up into the state-of-the-art multi-disciplined facility now relied upon by so many locals for the well-being of their pets.
The vision for the clinic is to provide the very best resources all in one place. 
They have all the technology required for any kind of surgery, and as a result have become very popular with the local international residents, particularly Scandinavians.  
The clinic covers all aspects of pet welfare, with a specialist in traumatology (operating on bones) and an ophthalmologist (eye specialist) on the team as well as a nurse, but any specialist that is required can be brought to the clinic. Such are their skills that they also assist other practices in the area. 
The treatments here aren't confined to the physical. They have a behavioural specialist too, who attends the clinic once a week, but who can also visit the home of a client if necessary.
Pets' appearances haven't been ignored, as there are two hairdressers available to ensure he or she remains well groomed.  
Another specialist at the practice is a physiotherapist, whose skills are especially useful for pets who have had surgery. Toni explains that post-operative care regimes can sometimes be difficult for the pet owners to follow, so the physiotherapist can help enormously. 
Although their hours used to be more 'Spanish,' they are now open 10am to 8pm in order to ensure they are available when their clients need them. 
This is not an emergency clinic, but they will answer the phone 24 hours a day for emergencies, and can either advise over the phone, or if necessary meet at the surgery out of hours, thereby ensuring complete peace of mind for their clients. If a client does need to call out of hours, they're clearly going to be upset and keen to get their pet's problem solved as quickly as possible. 
So it's comforting to know they won't just speak to a clerk, but to vet Toni himself, ensuring they get the help and advice they need straight away. He laughed that if he's been woken up in the middle of the night he might sound a bit groggy, but the important thing is he'll give the help that's needed!Cats and dogs make up the majority of pets seen by Toni and his team, but reptiles and rodents are catered for too, and anything else that might need the attention of their exotic specialist, for that matter. 
One of the benefits of using El Port Clinica Veterinaria is that every aspect of a pet's healthcare can be managed in one place. Whether the problem requires surgery, physiotherapy, dental treatment or behavioural adjustment, Toni and his team can help. What's more, you're not dealing with a franchise with an anonymous boss. 
Toni is passionate about being available to his clients, and as a vet and the boss he will ensure that all your needs and expectations are met, and all in one place.
C/La Mar, 159, 03590 Altea, Alicante, clinicaelport@gmail.com, Tel: 966 880 612 / emergencies 617 544 396