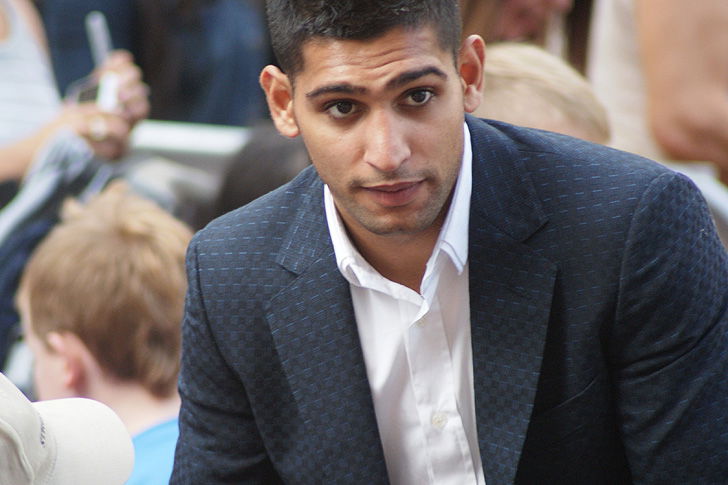 British boxer Amir Khan, 29, is claiming three other high-profile boxers are afraid to fight him, reports from February 16 claim. 
Making no mention of British rival Kell Brook, the current holder of the IBF welterweight title, the two-times former world champion has apparently named Floyd Mayweather, Danny Garcia and Manny Pacquiao as his unwilling opponents, while also claiming he is moving up from welterweight because the trio had "let him down" and forced him to seek bigger fights elsewhere.
Khan claims that the, now retired, Mayweather refused to meet him in the ring, even when Khan offered to fight him for free. 
Manny Pacquiao also ran scared according to Khan, while WBC welterweight champion Danny Garcia apparently blocked Khan´s attempts to avenge the fourth-round knockout delivered to him in 2012, despite Garcia´s ranking as WBC's No 1. 
In May 2016, Khan (31-3) will face Saul 'Canelo' Alvarez (46-1-1) in the first of his fights above welterweight, as he moves up to a catch weight of 155lbs.
The Mexican fighter, aged 25, is being called to take on mandatory challenger Gennady Golovkin in September 2016 and has been accused of using the Khan fight as an interim title defence.  
In his bid to take on Alvarez, Khan has been described as an "underdog" and a "sacrificial lamb to the slaughter" due to the size difference between the two fighters. 
Responding to claims that Alvarez could overlook Khan, the Bolton boxer said "If I was Canelo, that would be the biggest mistake I could make. If he is looking far ahead, looking past this fight against me and looking at a Triple G fight, he will be making a mistake because I really believe I can beat him in this fight."
Some sources suggest that Alvarez has no intention of taking on the Kazakhstan fighter anyway. Reports from February 13 suggest that the sticking point is Alvarez´s demand for a 155 pounds catch weight clause, which Golovkin has, until now, refused to honour, preferring to have the bout at 160 pounds. 
Alvarez and Khan will meet in Las Vegas on May 7 to duke it out for the WBC middleweight title.