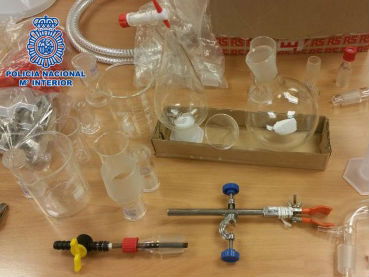 A SYNTHETIC drugs laboratory in a rural hamlet was dismantled by the National Police in Alicante on February 6.
Three Britons and one Dutch male, all of whom are said to be part of a sprawling drug trafficking network, were arrested when police found 122 kilos of APPAN, a substance used in the production of amphetamine.
As many as 16 other persons connected to the criminal network have already been arrested in Spain and in the UK, during a joint National Police / British National Crime Agency investigation into their activities, which fell under the police's radar in 2014.
Reports claim the amount of precursor drug APPAN found at the clandestine laboratory, was the largest seen in any European bust. Also found on the premises were laboratory equipment, sulphuric acid, a bag of marijuana, a gun, computers and mobile phones.
The two persons arrested are reported to have been buying some of their chemicals from a laboratory in Valencia, which they would first bring to Altea, before moving it to their rural outpost.
Previous arrests made during the several phases of the police operation include a Polish man carry 400 kilos of strong 'skunk' in Poole, Dorset, five marijuana growers in Alicante found with nine kilos of marijuana, 400 plants and €81,000 in cash.
A National Police report confirmed those four now detained face charges for the production, distribution and sale of drugs.