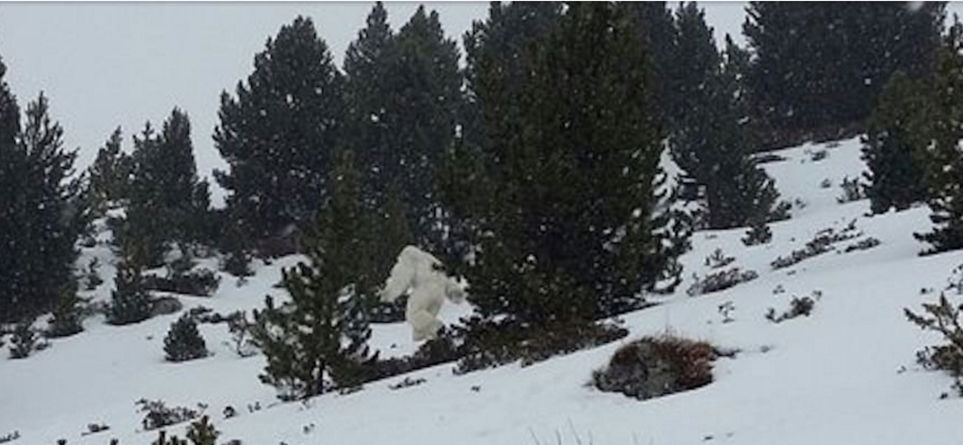 A GROUP of skiers at a Spanish ski resort in the Pyrenees posted a photo and shaky video footage of a Yeti-like creature, roaming among the trees in the snow, on February 6. 
Alongside the photo, which went viral on the internet, the original tweet, by "Kangaroo" said:
"This morning skiing in Formigal with friends we've come across this. What the hell is it? A bear or a bl***y Yeti".
The tweeter said he'd later informed resort staff about the marauding Spanish Sasquatch up in the mountains, warning "I bet there's something on the loose out there. I know what I saw".
The footage of the mysterious creature passing through the ski resort left its bosses, Aramon, with no choice but to comb a mountainous area of land and assess whether there was something potentially dangerous lurking in the vicinity.
Users on popular social media sites debated whether the image could have been doctored on Photoshop, while others have suggested it could be a soldier wearing white camouflage gear for the snow.
Several people also came forward to say the large hulking figure's gait is more like that of a bear or a large ape.
A spokesperson for the ski resort, which played host to the FIS Alpine Junior World Ski Championships in 2008, later said that their search of the area had been concluded and no sightings of Yetis reported.
He pledged to keep visitors to the resort safe, saying "We believe therefore that there is no cause for alarm and that visitors' security is guaranteed."