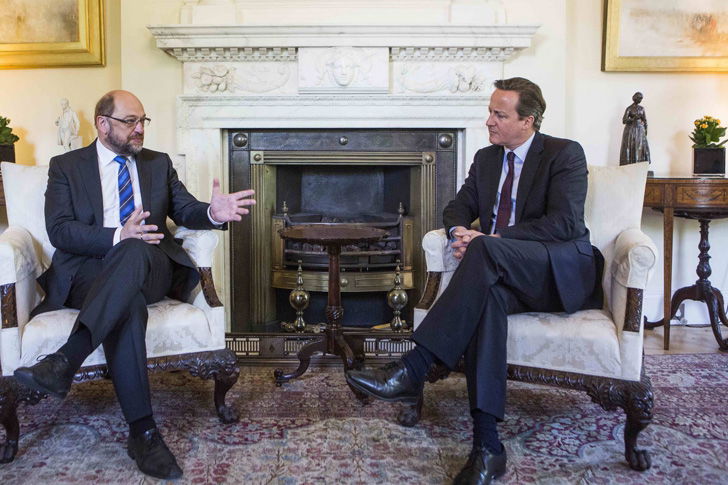 EU LEADERS are said to be sick of pandering to Britain´s every renegotiation whim, reports from February 5 suggest. 
Speaking at the London School of Economics, the European Parliament President, Martin Schultz said that MEPS in Brussels were fed up with David Cameron´s demands and were considering blocking his proposed reforms at a European Council summit held on February 18. 
Mr Schultz declared himself "a strong supporter of the UK remaining in the EU", despite his claim that "the British often test our patience and good will with their constant demands". He confirmed that several MEPs were less convinced, with one reported have said "Don´t stop a rolling stone. If the Brits want to leave, let them leave". 
The British Prime Minister has previously claimed that once his proposed reforms are agreed upon at the coming summit meeting the changes will be "legally binding and irreversible", an assertion which has since been challenged by Martin Schultz, speaking to news reporters after his London Lecture. 
Asked whether he thought disgruntled MEPs might seek to amend the Prime Minister´s reform package further down the line, Mr Schultz replied "Nothing in our lives is irreversible. Therefore legally binding decisions are also reversible."
A swift retort was then served back by David Cameron, speaking at a press conference in Copenhagen, who said "If it is agreed it will be agreed as a legally binding treaty deposited at the United Nations" which, he claims, "would only be reversible if all 28 countries including Britain agreed to reverse it."
Mr Cameron now has less than a fortnight to woo 27 EU leaders and win their votes for the draft deal. Gaining their support is just the first step in a long journey which will then see the Prime Minister turn his charm offensive to the British voting public, as he attempts  to persuade them that the nation´s acceptance of the new, improved EU membership conditions are more desirable than an all-out exit. 
However, the results of a YouGov public opinion survey conducted this week have since rained on Mr Cameron´s parade, showing that 45 per cent of voting Brits are in favour of quitting the EU, while 36 per cent are keen to stay put.
Attending a Warsaw meeting chaired by Polish Prime Minister Beata Szydlo, Mr Cameron reiterated his pro-Europe stance, saying "I think Europe is better off in a reformed European Union if we can achieve those changes."
Should British public support for staying in Europe hinge on Mr Cameron´s reform package being accepted, its ministers had better tread lightly before the next meeting.