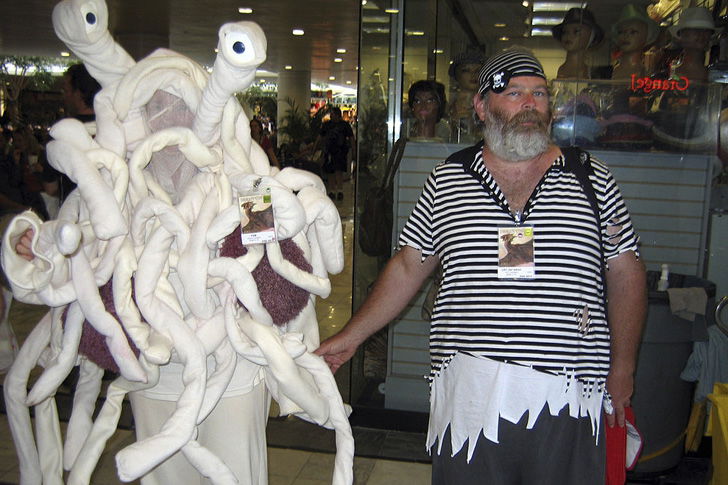 PROGRESSIVE judges in the Netherlands have recognised the Church of the Flying Spaghetti monster as an official religious denomination. 
Dutch members of the organisation received the glad tidings from the Chamber of Commerce on January 26, before celebrating with a bowl of pasta while wearing a colander crown on their head. 
The church´s linguine-loving devotees describe themselves as Pastafarians, leading some to question the legitimacy of the faith, which is often viewed as anti-religious or atheistic in principle. 
The offbeat-movement-turned-proper-religion adopts a light-hearted view of spirituality while opposing the teaching of creationism and intelligent design in schools. Its adherents believe that their afterlife will take place in a beer volcano with a stripper factory, if they are good, or a stale beer volcano with STD infected strippers if they are bad. 
According to Pastafarian beliefs, pirates are revered as "divine beings" and considered to be "peace-loving explorers and spreaders of good will" rather the "thieves and outcasts" of their traditional portrayal. The internationally celebrated Talk Like a Pirate Day, held in September each year, is an important day for Flying Spaghetti Monster enthusiasts. 
In 2005, ´prophet´ and church creator Bobby Henderson succeeded in securing religion status for his new-fangled faith in North America, after posting a satirical open letter on his website, which challenged Kansas State Board of Education´s decision to include religious-based doctrine in the public school science curriculum.   
In his letter, which garnered the church leader significant public interest, Mr Henderson took aim at creationists when he professed that his unconventional faith included his belief in "a supernatural creator that closely resembles spaghetti and meatballs," who, he claimed, could change the results of carbon-dated objects "with His Noodly Appendage."  
Commenting on the church´s breakthrough in the Netherlands, a spokesman for Dutch members stated "our church stands for equality for all. Therefore anyone can sign up free of charge and without obligation."