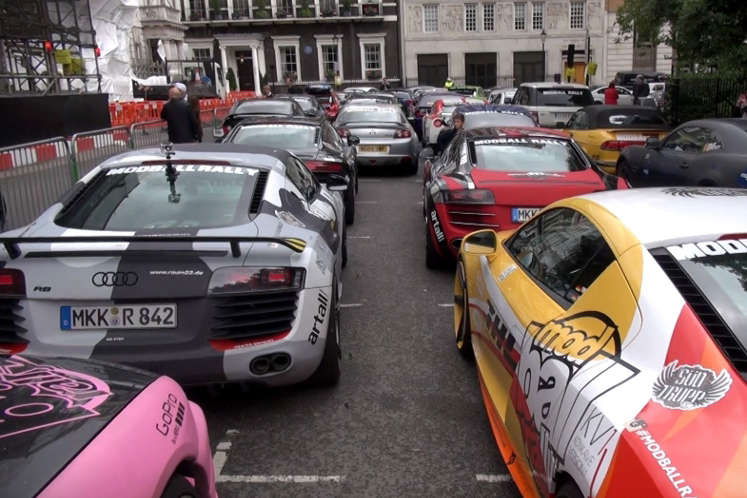 SATURDAY June 20 saw the Pall Mall and Waterloo Place in London closed down. Not for a royal wedding, nor a national holiday, but something far more important – the official start of this year's European Modball rally!
The Modball rally is not so much a rally in the WRC sense, more like a modern-day incarnation of the Burt Reynolds classic The Cannonball Run, but within the law, albeit just within the law.
The petrolhead rally brings 180 supped-up, modified, customised, tricked-out, or just downright leary cars from over 20 countries for a jolly gaunt from London to sunny Spain via Italy, and all in aid of charity.
Ok… In aid of lots of parties, good laughs, car displays, blasts around racing circuits, showing off in the sun, and charity.
At the head of the start grid this year were the Ferrari La Ferrari, a McLaren P1, and the Porsche 918 Spyder. The 'Holy Trinity' Top Gear couldn't get together. But with a field that's open to all that pay a €2,500 entry fee and have at least two modifications to their car, the variety of machinery on display was phenomenal.
With their 'Drive all day, Party all night' heads on, the Modballers were due to arrive in Barcelona on June 25, after spending five fun-packed days (and nights) driving through Paris, Milan, Rome and Monaco.
Although basically an excuse for the boys and their toys to have great fun, the Modball Foundation is a non-profit charitable trust set up to give young, disadvantaged children the opportunity to experience the world of motor sport. So everybody wins.