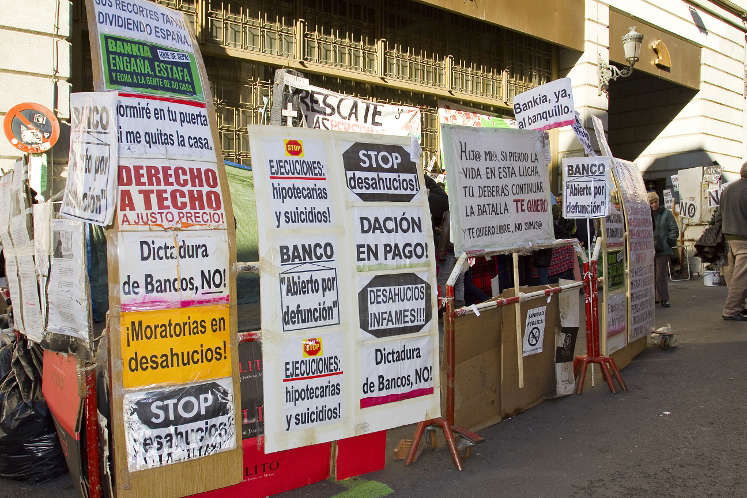 THE human rights organisation Amnesty International has condemned Spain's record on evictions over the years of the crisis, and called on the government to take immediate action. The campaigners want evictions to be suspended until Spain can guarantee that human rights will be protected during the process.
Launching a report on Tuesday (June 23), which claims that the human right to a home has been "mortgaged" in Spain, Amnesty was frank in its criticism of Spanish authorities.
"The government is in breach of its international obligations," said the director of Amnesty International Spain, Esteban Beltran, who added that the government was out of line to consider housing to be "a commodity and investment, rather than a genuine human right."
Amnesty said that governments were obliged to use every resource possible to ensure people's right to a home was protected. The report argues that with 600,000 mortgage foreclosures in the country since 2008, while the government has halved public spending on housing and continued sell-offs of social housing in Madrid and Catalonia, Spanish authorities are actively avoiding their duty to protect the most vulnerable.
The report provides a series of case studies on evicted families, including that of Ainhoa Lafuente, a young mother who was evicted after she lost her job in 2009. She says that when her bank sold her a 100 per cent mortgage, she didn't understand that her parents' house, where she now lives with her three-year-old and her elderly mum and dad, was also at risk. Although she's in negotiations with the bank now, she says: "I have time, but my parents don't."
While 18 per cent of housing in the UK is social housing, 32 per cent in the Netherlands, in Spain the figure is just 1.1 per cent, the lowest rate in the EU with the exception of Greece. At the same time, Spain has 30 per cent of the entire stock of empty housing in Europe, more than three million properties.
Amnesty wants the Spanish government to take action to address this extreme imbalance, and to freeze all evictions until legal changes can be put in place to ensure judges are able to look on a case-by-case basis at the proportionality of evictions, amongst other measures.
The organisation also pointed out this was the first time they'd been compelled to launch a campaign on evictions anywhere in the world, such is the degree of the Spanish crisis.