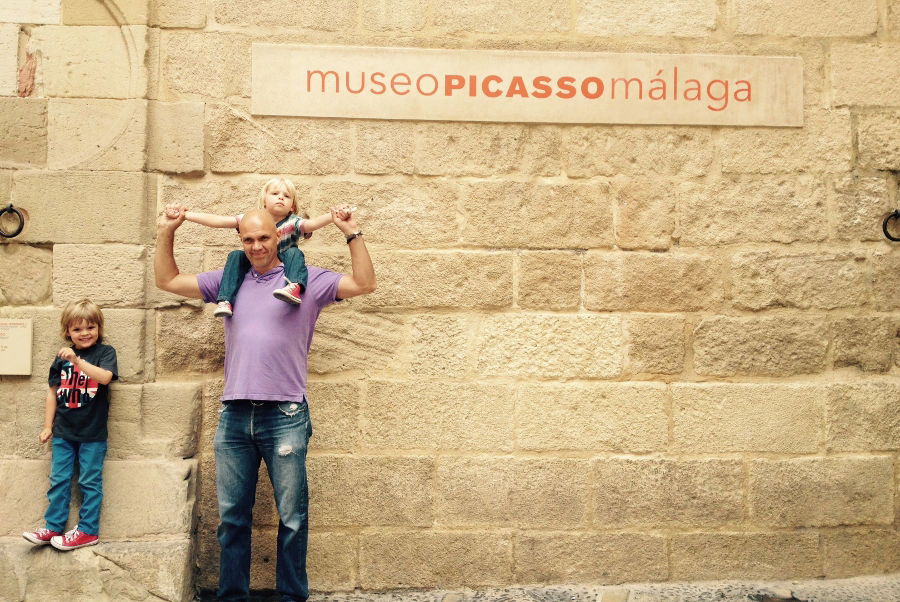 Writer David Hurst with his wife Debs recently made the big decision to take their five-year-old son Daniel out of British formal education to travel on a journey the family has dubbed "Education By Astonishment!"
Daniel recently paid a visit to the Euro Weekly News office as part of the project.
There were moments of clarity for our big decision. Before we set off on a three-month trip last year, travelling 7,500 miles in our motorhome mostly round Spain, we had shown Daniel photographs of places we would visit. He asked a few questions, then wanted to run off and play.
But when we were actually at these places Debs and I answered myriad questions. When Daniel and his three-year-old brother Darley really saw Stonehenge, Windsor Castle, the Royal Palace of Aranjuez, Valencia's Oceanogràfic aquarium (the largest in Europe) and Spain's impressive mountain ranges they were keenly interested – and we could instinctively teach them school subjects but from real life out there in the world.
Of course, Geography and History were covered on every kilometre of our journey. On the road we had plenty of reading and writing time for our boys. Throughout they were picking up Spanish and on the campsites other languages such as German, Swedish and French too.
Additional subjects were covered in real-life ways as well – and as they were experienced face-to-face they all had that wow factor. Imagine seeing where knights lived for real! Or an immense waterfall roaring down a cliff. This meant our boys were always eager to learn.
They were learning too that exploration and risk-taking is exciting – and often gain results beyond expectations. As well, our two boys were growing fantastic self-confidence. Even the greatest Oxbridge degree is useless without the inner confidence to get out there in the world.
By being together we could seize chances when Daniel actually wanted to read, write or do maths – so be more likely to learn. Teaching was always one to one. Children are born curious, and new environments bring out that natural curiosity. Travel broadens education.
As a family we had fun together and bonded even closer. That's not to be underestimated: we didn't have children to not have them. Yet family togetherness is something in many parts of the western world that seems to be steadily stuck behind in the race for a bigger house, better car and the lonely, perpetual staring at screens.
Children in Britain have to be in full-time education by the term after their fifth birthday – but while education is compulsory, schooling is not. So a few months ago we informed Daniel's (excellent) school-to-be in Devon that we'd educate him until the new school year in September.
So since February this year we've been staying again in our Swift Escape motorhome (that we downsized our home to help us afford) in various picturesque Camping & Caravanning Club campsites in Britain, Spain and Morocco with Portugal to come. This will continue what we started on last year's three-month travels in what we called our Face2Facebook Project when we visited as many Facebook friends as possible, donating to a cancer charity for every one we saw.
Now while still continuing that project we're focussing on our new project: "Education By Astonishment!" With this we're travelling to discover somewhere astonishing for each of the UK National Curriculum subjects.
So far we've seen amazing Spanish sights such as the Royal Palace of Aranjuez, Cimbarra waterfalls, the Sierra Nevada mountains, Granada's Science Park, the Caves of Nerja, and Málaga during Semana Santa. This week we've seen the bronze Salvador Dalí sculptures in Marbella, Benalmádena's Buddhist stupa, and even visited the Euro Weekly News offices to see how a newspaper is put together and where Daniel excitedly sat in the Editor's chair.
We chose Spain as the focus of our project due to its wealth of culture and history. Spain's ideal for lessons in subjects such as Art and Geology. Then there was Mathematics from the astounding patterns at the Alhambra in Granada. Of course, every kilometre of our Spanish travelling covers Geography and History too, in an exciting way as well.
Additionally – unlike in Britain at this time of year – we can spend most days together outdoors discovering amazing people and astonishing things. For every place we specifically visit we're donating to UNICEF children's charity, with the giving and thinking of others a most valuable lesson in itself.
Debs grew up in Jávea and I've spent many months in the country over the years. So, as Spanish has now overtaken English as the second most spoken language in the world, we both appreciate the value of speaking Spanish as well as the richness of Spain's scenery, culture and history. We're having lots of fun together as a family, which is not to be underestimated too. I lost my father in December, so know this is important.
Spain's a stunning country with wonderful people, including on the coasts from a variety of countries from Argentina to Senegal, and it's making us all much richer in mind and body. Family life is still up the list of priorities here too. In fact, we love it so much we're thinking we should live here!
One criticism of taking children out of school is that they won't socialise. We think this is not so. Daniel and Darley haven't made as many similar aged peers as they might at school in the past few months, but they have been socialising on a much larger scale, meeting people from all backgrounds, cultures and ages. We think this is important – that they can get on with someone from across the world aged 90 as well as they can someone from across the road aged five.
Teachers in Britain generally do a first-rate job. But increasingly it's teachers levelling criticism that successive British governments have forced formal education to be too much about passing tests.
Tim and Kerry Meek are teachers from Nottinghamshire who recently quit their jobs and sold their house to travel in a caravan with daughters Amy, 11, and nine-year-old Ella. "Education is becoming dominated with tests and targets, at the expense of engaging and enjoyable learning," says Tim. "But children aren't sausages in a sausage factory to be pumped full of facts ready for regurgitation at the end of some arbitrary Key Stage, when they take high-stakes assessments."
Maybe it's simply not the best way to teach our young children. Ninety per cent of countries don't start primary school education until the ages of six or seven, and there's much more emphasis on "learning through play."
In the latest world education ranking report, the Programme for International Student Assessment survey listed the top ten countries, which included Switzerland, Netherlands and Japan. None of the top ten start children at primary school before they're six or seven. The UK came 26th. (Spain came a few places lower than the UK, but its overall results showed an improvement while the UK's were slightly worse than the previous survey.)
Then a British campaign still grows that started in 2013 called Save Childhood Movement, backed by a group of academics, teachers and authors calling for reassessment of national policies on early education. Collectively they wrote in a letter published in The Daily Telegraph that children who "enter school at six or seven consistently achieve better educational results as well as higher levels of wellbeing."
So as with almost every parent, we're simply doing what we hope is best for our young children, in our case by travelling and giving them real-world experiences. We hope we can see them learn from the wonderful world that's around us and that they'll see the world globally, one that in the coming decades is likely to be ever more open for opportunities and adventure, both in work and pleasure.
We also want them to see the world is generally a friendly place not a hostile one, that it's a world to be respected and cherished, one to give their all to and in which they can fulfil their potential and give it to the world. We hope we inspire other people to travel and to see that there are alternative ways to learn.
We also hope when they're older they'll look back through memories and photographs, read our blogs and tweets – and think: that year 2015, it was truly astonishing!
Follow the Hurst family's journey here: Blog – http://face2fb.wordpress.com
Facebook – http://goo.gl/w8adB0 Twitter – @davidhurstuk
ENDS