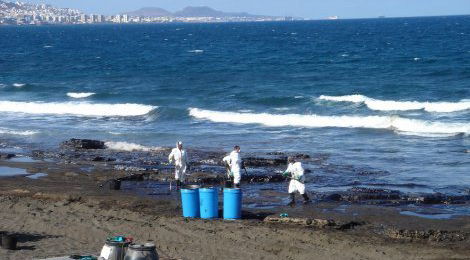 IT is reported that fuel oil, possibly from a fishing vessel that sank off the Canary Islands in mid-April, has reached the west coast of Gran Canaria.
Veneguera beach saw the first signs that oil from the Russian trawler, Oleg Naydenov, could cause a serious problem. Traces also turned up in a cove located within the Gran Canaria Biosphere Reserve.
The Spanish government say they have raised the emergency level in acknowledgment of the damage risk to the coastline. Several aides to Public Works Minister Ana Pastor and representatives of the Canaries government met on Thursday morning to discuss upcoming action.
The trawler, which was carrying 1,400 tons of fuel, was dragged out to sea last week because of a fire, then sank off Gran Canaria two days later and has been losing fuel from its tanks ever since.
The maritime rescue agency are working to keep any slicks from reaching land, while Jesús Cisneros from the University of Las Palmas said: "Let's not forget that this ship caught fire inside the port. The fact that [the government] don't know if the fuel is coming from the sunken ship or from some random boat that was passing that way is really too much. They've got two airplanes, a helicopter, four ships and satellite images, and they're not sure what happened?"
Antonio Juan González Ramos, of the Robotics and Oceanography division at the same university, said that satellites have been monitoring the spill since the moment the trawler sank. The main slick, he explains, is moving south "at hell-bent speed" due to favourable winds and currents.