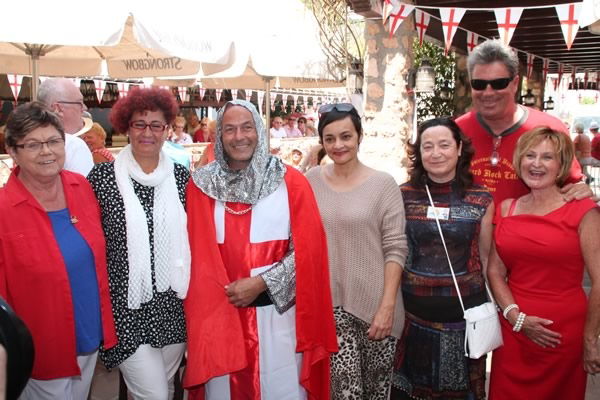 WHAT a fantastic turnout of Brits to celebrate St George´s Day in Alfaz del Pi, with red and white the predominant colour and even St George was spotted mingling with the crowds.
The event started at 2pm, an all-afternoon celebration with the sun shining and beer flowing – a real party atmosphere with Vince Tracy compering the afternoon entertainment. Organiser Sue Rush was delighted with the turnout, hoping to have raised a substantial sum for the Alfaz Food Bank.
Genoveva Gent, Security Councillor for Alfaz and also a member of the Provincial Government of Alicante, attended along with Gunilla Herrera, Councillor for Social Services. The €5 entrance fee automatically entered everyone into a raffle with the chance of winning a fantastic flat screen television.
Marilyn and Peter Rogers from the Benidorm branch of the Royal British Legion were also present, manning a stall selling a selection of poppy memorabilia in aid of the 2015 poppy appeal.