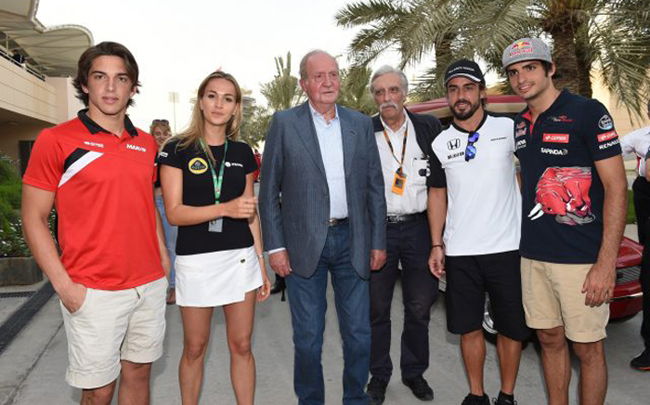 FORMER King of Spain Juan Carlos arrived at Bahrain's F1 Grand Prix during testing on Friday and gave the Spanish drivers a little pep talk.
King Juan Carlos joined the weekend's motor fest by meeting his fellow Spaniards on track and joking with Alonso.
After speaking with Torro Rosso driver Carlos Sainz and others, the ex-King and Fernando chuckled over the critical comments made by Niki Lauda last week about him being 'Moody, egocentric and dark.'
The King joked: "I'll go talk to Niki and I'll give him what for."
Meanwhile, qualification for tomorrow's race came to a nail-biting conclusion as Lewis Hamilton in his Mercedes AMG stole pole position from the Ferrari of Sebastian Vettel.
In a final lap that saw the lead change four times, Hamilton pulled out all the stops to put himself at the head of the pack for tomorrow evening's night-time spectacle. With Vettel close behind in second position and Rosberg occupying the third spot, the start in Bahrain promises to be as exciting as the ultimate lap of Qualifying.