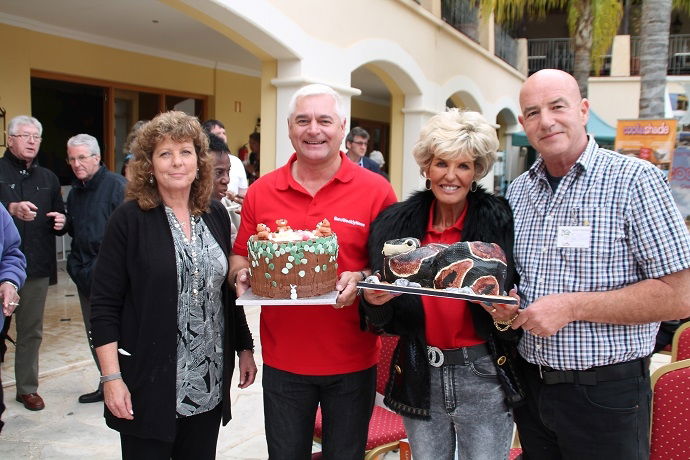 THE Marriott Hotel in Denia was packed with visitors to the Homes, Gardens & Lifestyle Show on Friday 10 and Saturday 11 April with constant poolside events and dozens of stands inside showcasing the best of the Costa Blanca's products and services.
Selection Box winner Pam Shepperd received a voucher for a luxury Spa weekend break at the Marriott. However, the star prize was the incredible Cruise giveaway by Euro Weekly News. Sadly, winner Nicol Drouge was not present at the draw so Michel Euesden phoned her live to break the fantastic news – Nicol's shrieks of delight were very audible! She will now be heading off on a five day luxury cruise from Lisbon worth more than €1,000 courtesy of the Euro Weekly News.
Raffles, prize draws and spectacular special offers drew the most interest in a two- day show packed on both days. Virtually every visitor left with a goodie-bag of samples, newspapers, leaflets, purchases and prizes.
The two celebrity guests Antony Worrall Thompson and Mark Stacey mingled with the crowds between stints of cooking, valuing and judging. 
Fantastic products and services on display
The girls from ´Mountain Retreat´ in Finestrat welcomed a constant stream of clients laid out on treatment beds, relaxed and oblivious to passers-by, enjoying their treatments. The ladies made a bee-line for ´Beautiful Sole´ and their selection of glitzy and sparkly accessories for sale. Sarah and Emma – both working mums with young children – complement each other's range of shoes, handbags, jewellery and home accessories, cleverly saving on overheads by promoting through shows and private salons and selling from home.
The popular girls from ´Curry on Cooking´ were inundated with visitors as they handed out samples of tempting Bombay potato and spiced rice as they marketed their unique 'Curry Kit' which serves four, comprising sachets of just the right amount of herbs and spices to create the perfect curry.
The oldest exhibitor, 90-year-old Eric, put younger entrepreneurs to shame by standing through the two full days to promote his company 'The Airless Paint Spraying Machine Hire SL!'
Poolside foodie fun
Outside by the poolside the waft of delicious food drew hungry guests to see Stephen at ´The BBQ Shop & Grilling school´ gazebo. There he managed to create some incredible food on a Broil King – the Rolls Royce of BBQs – even baking flatbreads served hot with delicious grilled meats marinated in his own homemade mixture of ingredients. Check out his Facebook page for further details: Stephen Grills.
The Costas Cook Off sponsored by Cambridge 800 drew huge crowds with standing room only for each heat, compered by Sarah Hawes, Manager of Cambridge 800 Spain. Sarah gave a running commentary as Anthony and Mark 'assisted' the chefs in the daily rounds until the grand finale on Day Two.
Christian Lohner of NOX in Javea and Neil Browning of Tribus in Benitachell made it through and produced some absolutely stunning dishes – unable to decide, a draw was declared!
For the first time ´The Bake Away´ cake competition was held with three categories: Novelty, Sponge and Cupcakes. Antony Worrall Thompson and Alistair, Senior Soux Chef at The Marriott, sampled each entry, submitted by a cross section of professional and home bakers. Each entrant paid €2.50, later donated to Grant A Wish, the charity sponsoring the event. The 'sponge' winner was El Macaron Gourmet in Javea. The cupcake category was won by Jo Stacey. The real showstopper in the Novelty section taking the top prize was an incredible Willy Wonka green cake baked by Lesley Cameron from Callosa. She and her husband took a week to bake the 38 individual cakes and 15kg of fondant icing – the cake was later cut up and donated to various Emaus children's homes. The Euro Weekly's CEO Michel Euesden bid €600 for the other two winning categories – the cash will go to the 'Make a Smile' charity headed by Tony and Lucy Grande, to support the EMAUS children's home in Relleu, where the kids are learning to be self-sufficient. They grow vegetables and raise chickens (producing more than 200 eggs each week!) They are even producing their own branded Olive Oil – which sold at the event at a reasonable €4 per bottle!
There were so many hard-working and deserving charities at this popular event – some there simply to promote their causes, others actively raising cash – such as the Cruz Roja (Red Cross), marking the occasion after a year of fundraising by hitting their €65,000 target to purchase a new ambulance.
Covering the event
Total FM provided the sound system for the poolside events commentary. Director Wendy Williams said: "It was a fab two days meeting so many people and it was especially great meeting the celebrities." Kay, manning the Costa Blanca News Group stand said: "It's been a great experience, especially meeting old and new clients."
The two days were a triumph for organisers GM Promotions, The Euro Weekly News and a long list of generous sponsors who made the two day event an astounding success.