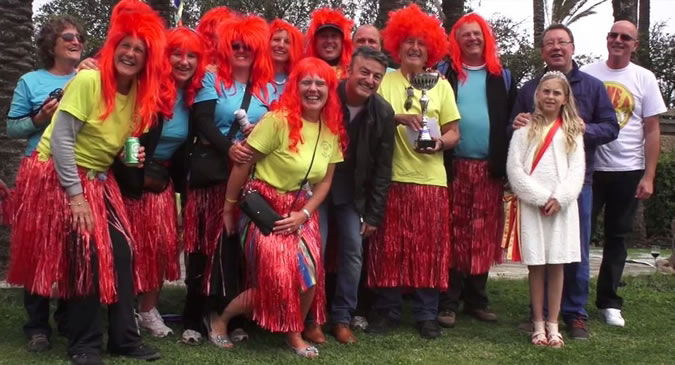 A SPECTACULAR and colourful procession of hard-working fundraisers decked in outrageous fancy dress burst into life on Sunday for the Bay Radio 3km Sponsored Fun Run-Walk-Crawl-Stagger or Dance in support of Make a Smile in aid of the EMAUS children's home at Relleu.
The Euro Weekly News joined merrymakers on Avenida August as they made their way toward the seafront and the Parador Hotel.
Bring on the parade!
Riding in a sleek convertible and chauffeured by celebrity antiques expert Mark Stacey was Benidorm's 'The Duchess', resplendent in a glittering green floor-length, sequined gown trimmed with ostrich feathers, fluttering her eyelashes and waving to her admirers.  Beside her was beautiful Carnival Queen Lauren Denia in her sash and tiara, leading a magnificent parade of 600 walkers in every kind of whacky fancy dress, accompanied by Javea's marching band.
Super heroes rubbed shoulders with frilly flamenco dancers and grass-skirted hula ladies and gents; the bright red wigs of the Hash House Harriers certainly made a splash and the striped jerseys of the Swag Bags drew a smile.
Tiny tots in pushchairs; little dogs dressed as Mr Punch's Toby and a tribe of fluorescent tutus strode toward the Parador with a roaring convoy of 37 gleaming Harley-Davidson motorcycles – they parked outside the Parador along with a collection of classic cars, where crowds could admire them and meet the bikers.  They were there on one condition – that Make a Smile fundraiser and organiser Sue Nutbrown would become a 'Biker Babe' for the day on the Harley-Davidson Fun Day on June 14!  Terrified of motorcycles, Sue immediately agreed!
Carnival atmosphere
The beautiful gardens at the Parador were jumping with entertainment as the Poco Loco Steel Band lent a Caribbean flavour to the afternoon.  A bouncy castle was in constant service for most of the afternoon, with all proceeds going to the charity.  The Parador most generously provided space around the terraces and gardens free of charge as well as donating the takings for the day to Make a Smile.  Javea Mayor José Chulvi made an appearance, happily posing with the fancy dress winners and the gorgeous Carnival Queen Lauren Denia.
The Fancy Dress Winners
Mark Stacey was kept busy judging the imaginative costumes that gave the event a glorious splash of colour – the winners were:
Most Unique Person: Nigel Webb. Nigel was rigged out in a smart business jacket, shirt and tie, topped off by extremely tight shorts and bright red stilettos – making a MOST Money Market impression…
Funniest Contestants: The red-wigged Hash House Harriers.
Junior Champions: The Lady Elizabeth School's Unicyclists.
Most Creative Contestants: The Swag Bags.
More cash for the charity was generated by Nigel Webb, who agreed to have his legs waxed (ouch!) for an extra €100 offered by Bay Radio's Danny Matthews and Andy Stammers – he then auctioned his sexy red stilettos for another €130, bringing his contribution to a total of €1,147.
The wonderful 'bucket shakers' – 17 children from the Steve Jobs School and Xabia International College – collected an incredible €1,500.
The final total raised throughout the event is yet to be finalised – but even as the walkers, fancy dressers and celebrities including Mark Stacey and of course the Duchess were packing up their party frocks, well-wishers were still pressing money into tireless organiser Sue Nutbrown's hand…
"It's been absolutely exhausting," said Sue, "But so worth it for these wonderful kids and everyone has been so open-handed and generous.  Our thanks go to everyone who supported the walk, and to Javea's excellent local police who did a superb job of supervising the route."  
Tony and Lucy Grande of Make a Smile said: "This event has been tremendous.  Our grateful thanks go to all the volunteers who made the day a success."
[iframe src="https://player.vimeo.com/video/124764039″ width="500″ height="281″ frameborder="0″ webkitallowfullscreen mozallowfullscreen allowfullscreen ]
Courtesy of Bay Media Studios