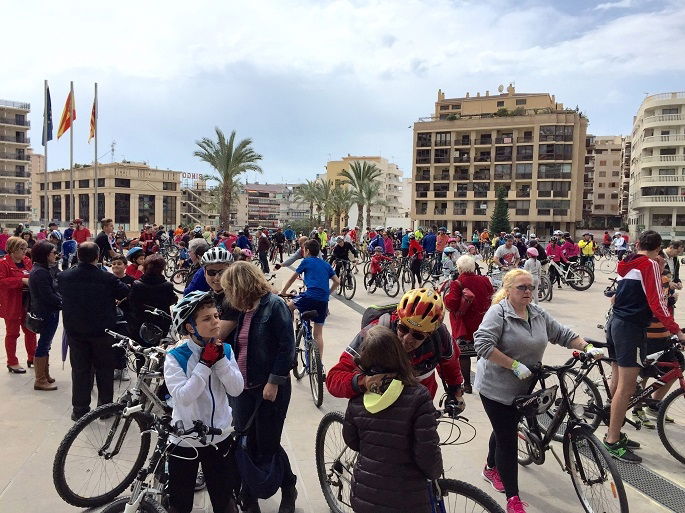 AN estimated 450 people turned out for the ´Day of the Bike´ cycle ride in Benidorm on Sunday morning, now in its 32nd year.
It was an event for everyone, with serious bikers from a number of cycling clubs joined by plenty of small children riding alongside their parents for the 9km route.
The event was organised by the Town Hall and Councillor of Sport Juan Ramón Martinez said he was "…delighted with the enthusiastic participation of so many – and had it not been so overcast many more would surely have turned out."
There was no entrance charge – the only stipulation being that everyone wore a cycling helmet. They set off at 10:30am from the Town Hall Square, with serious club bikers leading. Even the Mayor, Agustin Navarro joined in with his son – using one of the newly acquired Bicidorm rental bikes. The entourage was escorted by police outriders for the length of the Avda Mediterraneo, turning up past the indoor market, heading toward Benidorm Palace and on to the halfway point at the Ermita – beside El Cisne Rastro, where the Town Hall had provided refreshments of water or coca cola.  Everyone had a short rest before embarking on the same route back. A Cruz Roja ambulance was on standby along with a bike trailer in case of any punctures or for those too tired to complete the route.
Everyone made it back by 12:30pm and waited to congratulate those lucky enough one of the 15 bikes donated by three sponsors: Cycing Club Sol Benidorm, Benidorm Cyclist Union and Sport Zone.  There were other numerous sporting prizes – and Coca Cola provided the drinks.
The Councillor for Sport thanked everyone for participating and also praised the Policia Local, Proteccion Civil and Cruz Roja Benidorm for assisting with the organisation and safety aspect of the event.