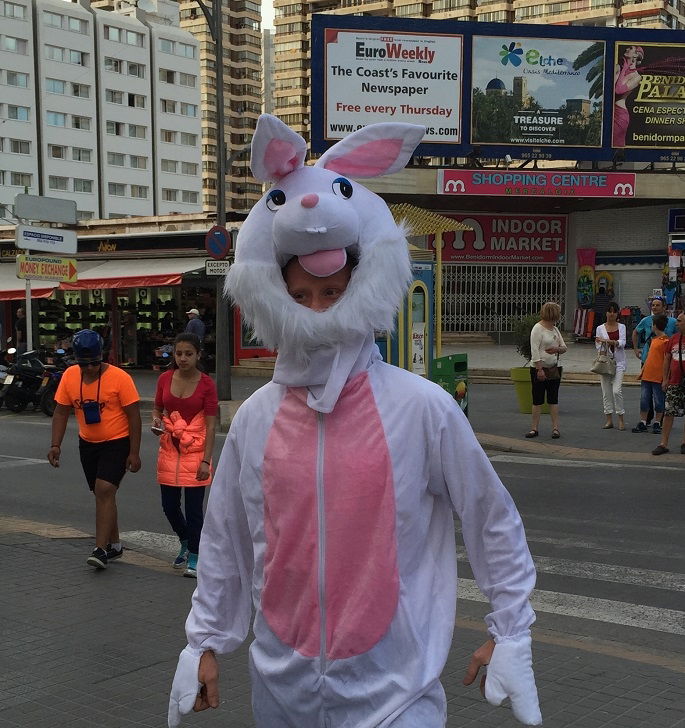 CAN you help Ginge from Positive Signs raise cash for charity?
Ginge, real name Paul, has pledged to dress up in a pink Easter Bunny outfit at Telitec's Easter Fun Day and the more sponsorship he raises the longer he will stay in his cuddly costume.
To donate go to this link: www.migranodearena.org/en/challenge/6230/easter-funday
All proceeds will go to the EMAUS children's charity.
The Costa Blanca's best ever Egg Hunt will be running throughout the day with different age-related start times.
The event at L'Ancora Tenis on Avenida del Pla 118 in Javea starts at noon and promises to be fun for all the family.
Organiser and host Telitec has 4G internet demos to share, with advice on how to make communications in your area so much easier, getting you connected full-time or part-time, for residential or commercial use. See what they have to say about internet, mobile, ADSL and wireless communications.
MABS Cancer Support volunteers are putting on a great tombola with exciting prizes donated especially for the event. MABS supports people with all forms of cancer, providing vital help however they can through their charity shops all over the Marina Alta.
The Costa Blanca's best ever Egg Hunt, sponsored by Blacktower Finance, is scheduled throughout the day so that youngsters can take part with children of their own age. Tots aged two to four will be able to enjoy their Egg Hunt at 12.30pm, five to eight-year-olds from 2pm. 
Look out for the Easter Bunny! He'll be hopping around and helping the kids find their eggs. And remember to bring your cameras – the Easter Bunny is very vain – he loves a selfie!
There is no time like Easter for dressing up with the kids! Easter costumes and creative Easter bonnets will attract prizes in each age category courtesy of Blacktower Finance.  
Local football juniors Marina Alta CF with players aged five to 11 will be showing off their skills under the eagle eye of Coach Rob Jones in the football tournament planned for 2 to 4pm – if they can still move after tucking into the delicious BBQ laid on for the occasion – and cupcakes to die for!
L'Ancora Tenis will showcase some tennis tips for would-be Wimbledon hopefuls and there will be plenty of other fun activities such as a bouncy castle and face painting.  Don't miss Club Casa Kids' Events from 2pm to 4pm at €5 per child.
Euro Weekly News knows that Easter is a chocolately, eggy paradise for children!  Reflecting on bygone Easters, most grown-ups will admit to gorging on a treasure trove of chocolate on Easter Sunday, chomping through several chocolate eggs before breakfast and regretting it briefly for 10 minutes before starting again! 
Nothing has changed. Kids are still showered with chocolate Easter eggs given with love by family and friends and this Easter the Costa Blanca's biggest free newspaper wants everyone to share some of that love with the children of EMAUS.
Can you spare one – yes just one – chocolate egg so that an EMAUS child can share in the fun and excitement of opening an Easter treat on Easter Sunday? Please buy one extra this year and spread some love around the EMAUS children's homes.
Some but not all EMAUS children are orphaned. Many come from underprivileged homes where Mum and Dad simply don't have the resources to support their family, others are from broken families. Some have been in a children's home for a long time…  While you well-heeled mums and dads are buying up an armful of eggs for your lucky children this year, please could you pick up just one extra for EMAUS? 
Bring it along on Friday to L'Ancora so the EMAUS kids can have a very special Easter 2015. If you would like to make a donation to EMAUS or help organise an event, please check out http://www.fcemaus.es/.