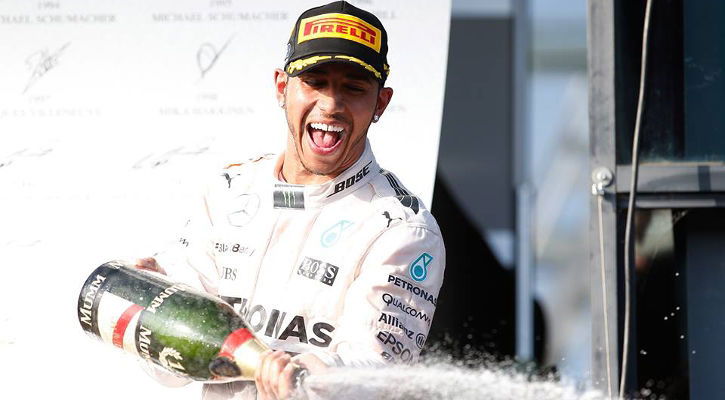 LEWIS HAMILTON dominated the season opening Australian Grand Prix from the start to notch up his 34th win. Then asks Arnold Schwarzenegger, "Weren't you taller in Terminator?"
The AMG Mercedes team of Hamilton and Rosberg handsomely pulled of the 1-2 finish they predicted before the race, but it wasn't through lack of trying from the other teams.
The Ferrari of Vettel, and Massa in the Williams Renault kept them on their toes throughout by pushing their cars to the limit, which finally saw them awarded 3rd and 4th positions.
However, the Australian circuit is arguably the hardest track of the F1 calendar, and with only 11 cars completing the race, obviously the most gruelling on the machines.
Notably, Kimi Raikkonen didn't have lady luck riding with him this time. After a good start his prancing horse was baulked at the first bend and lost ground, but after some great driving and setting some of the fastest laps, he was catching up until scuppered by a sloppy pit stop. Not to be beaten, the flying Finn set out yet again to record fast times until a disastrous second pit stop failed to secure a rear wheel forcing him to retire shortly after.
Also among the hard luck stories was Jenson Button in the McLaren. Starting 12th he battled to keep Sergio Perez in the Force India behind him, until on the 14th lap Perez collided with him knocking the wind out of his sails, and left him struggling to finally limp home two laps down.
Other unfortunate drivers that fell afoul of the infamous Oz track and did not finish include: Romain Grosjean, Pastor Maldonado, and Daniil Kvyat. Not to mention poor Kevin Magnussen in the other McLaren, who while standing in for Alonso… didn't even get to start!
Lewis Hamilton was clearly elated when standing on the podium talking to Arnie. In answer to a long question about his win here today, Lewis said, "I thought you were taller! You were taller in The Terminator." Arnie chuckled and replied, "I'm not wearing my high heels," then finished their brief interview with the classic, "I'll Be Back!"
At least that is one thing we can be sure of; Hamilton will be back!