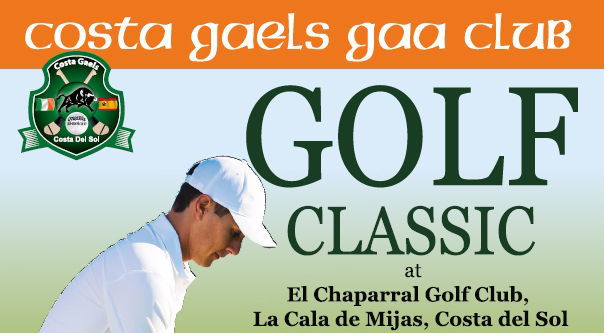 The Costa Gaels are an Irish Football club based in Marbella (The Gaelic Athletic Association Spain). It has been in existence since 2002 on the Costa Del Sol and currently consists of a healthy range of players from all over Ireland. It is not exclusively Irish though. All ages and nationalities are welcome to join, no matter what level of skill they have. There are players from  Argentina, America, Australia, Spain, South Africa, Croatia, England, Cyprus and even Ballymoney.
On Monday 16th March Costa Gaels will host The Inaugural Annual Golf Classic fundraiser at El Chaparral Golf Club in aid of the Costa Gaels Club and Kids Club. The purpose of the event is to raise funds for the development of the Club, in particular The Field Fund and revenue for the blossoming Juvenile Club which they aim to grow substantially with a new initiative targeting local Spanish and international schools.
The format will be a 4 ball Team Scramble event, Tee off at 10.30am and the cost per person is €100 including buggy, food, and some excellent prizes. Later there will be a burger and a pint at Biddy Mulligans, La Cala where the entertainment will continue with live music.
If you would like to take part in the golf day please call David at Biddy Mulligans on 603 864 258, or Pat Conlon 609 054 473 or Karl Quane 616 963 321.