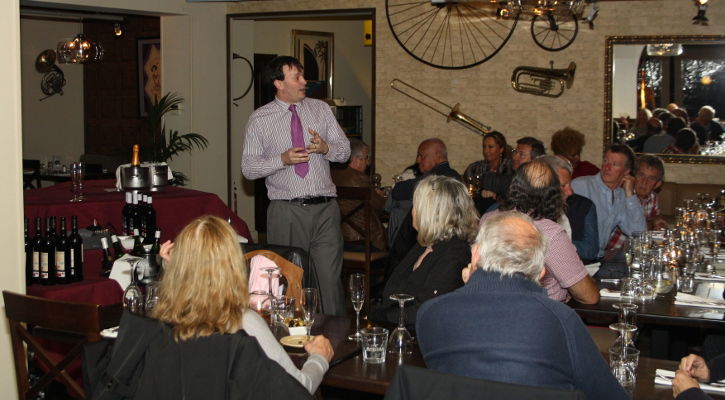 Alberts, on the harbour of Cabopino, is an unpretentious bar restaurant with a diverse menu from breakfast and light snacks to fine dining.
Assistant manager, Fabrio Anton a self-confessed wine lover, has worked in hotels running events in the UK and taken wine courses in France, Italy and here in Spain: "I love wine, it brings people together, there is no right or wrong wine, no one wine is better than any other, it is all a question of personal taste. I am not a wine snob. Wine is not just for certain people, it is just a question of finding what you like. I wanted to show people the best way to enjoy wine, which foods go with their choice, but as I said, it is all about personal preference."
Great Partnerships
Fabrio served Dibon Brut, made the same way as traditional Champagne, in Catalan. Fermented for the first time in stainless steel vats, the second in the bottle, Cava is made from three different types of grape which together create the unique colour, body, aroma and flavour. Dibon Brut is particularly crisp, fresh and smooth, perfect when served with spiced olives.
House wines are young and fresh and need to be able to be drunk on their own or with food. Sauvignon Blanc was Fabrio's recommendation for its fresh, fruity tropical aroma.
It is produced here in Spain in Castille-León, the largest wine producing area in Spain, the third largest in Europe. It is best served on its own or with seafood or creamy pasta. Chef's recommendation: scallops with chorizo and a honey glaze.
Viña Sol, again a very young wine produced by the Torres family. Apple green in colour, the blended grapes ensure this wine's elegance and finesse – producing a fruity, mellow, and young and crisp wine. Chef's recommendation: deep fried brie and rhubarb chutney with a candied walnut salad.
Almenada, a full bodied red wine produced in Castille-León using Tempranillo black grapes grown especially to make full-bodied red wine.
This wine goes especially well with oven baked pasta and slightly spiced food. Chef's recommendation: Yellow Thai King Prawn curry with Asian vegetables, coconut rice and mango chutney.
Conde de Siruela, full bodied, sweet and spicy well aged red wine, produced in north east Spain where the weather gives them extra flavour and sweetness. Chef's recommendation: lamb cutlets, dauphinoise potatoes and spinach providing an excellent partnership with the wine.
The wine tasting alongside dishes which are all available from Alberts' menu was an extraordinary event which looks set to become a regular feature.
Fabrio was a well informed host and made sure that everyone was well looked after, his passion for his subject shone through and made for an extremely enjoyable evening for everyone.
The next wine tasting event is on Wednesday February 25 at 7.30pm, make sure you do, it really will not be what you expect.
Please make sure you book as spaces are limited,
call 952 836 886