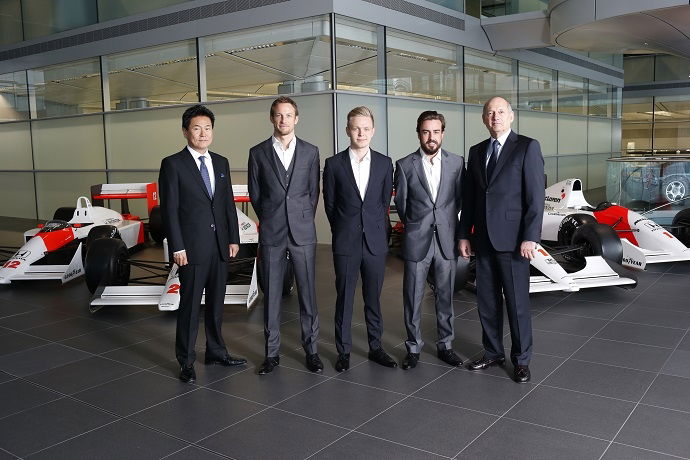 IT'S official: Fernando Alonso will be driving for McLaren next year.
The worst kept secret in Formula One was finally confirmed today (December 11) with the official announcement that the two-time world champion will be joining McLaren-Honda for the 2015 Formula One season. He joins former world champion Jenson Button, who after much speculation has been confirmed as a McLaren driver for next year.
With both former champs happy to be competing in 2015, only unfortunate Kevin Magnussen may feel a little put out, but the Dane is being retained by the team as test and reserve driver.
"I am joining this project with enormous enthusiasm and determination, knowing that it may require some time to achieve the results we are aiming for, which is no problem for me," said Alonso.
""Over the past year I have received several offers, some of them really tempting, given the current performance of some of the teams that showed interest. But, more than a year ago, McLaren-Honda contacted me and asked me to take part, in a very active way, in the return of their partnership – a partnership that dominated the Formula 1 scene for so long."
Alonso will be hoping to have a better season than he previously had with McLaren in 2007, when the Spaniard felt that the team was favouring his teammate Lewis Hamilton. But he acknowledged that the driving force behind his decision to re-join McLaren was to follow in the footsteps of Ayrton Senna.
"I still remember, as a kid, the posters in my wardrobe, my toy cars in which I dreamed I would one day emulate Ayrton, and the kart that my father built for my older sister, and that I ended up falling in love with," he said. "That kart had the livery of one of the most legendary partnerships in the history of Formula 1, McLaren-Honda, the car that Ayrton drove, the same partnership to which I am now honoured to join, to take part in the next Formula One world championship."