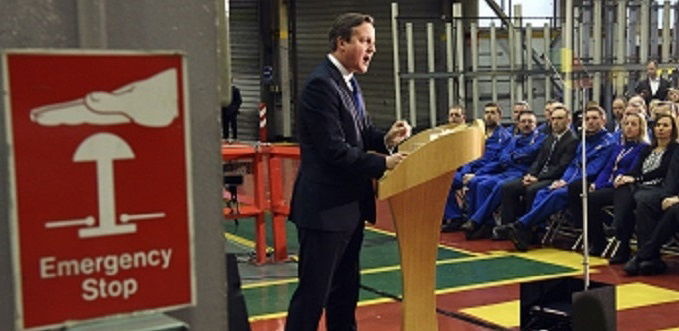 BRITISH Prime Minister David Cameron has proposed that immigrants from the European Union, including Spain, flocking to the UK for a better life will have to find a job within six months, or risk being booted out of the country.
Immigrants will also not receive tax credits or housing unless they have been in the UK for four years, if proposals by Cameron are taken up. UK membership of the EU is at stake unless Brussels acts to tackle immigration, the British PM warned.
Cameron has appealed to other European countries to support limiting movement across the continent and has threatened to block any new countries joining the EU unless immigration to Britain is controlled. At a speech in Staffordshire yesterday (Friday November 28), Cameron said: "It is not wrong to express concern about the scale of people coming into the country. People have understandably become frustrated. It boils down to one word: control."
However, the proposal would mean a rewriting of the EU's social security rules. Cameron hinted that unless Brussels takes action, the UK could leave the EU. "If our concerns fall on deaf ears and we cannot put our relationship with the EU on a better footing, then of course I rule nothing out," he warned.
If new measures were to be imposed it would affect around 300,000 migrants living in Britain and claiming tax credits. Cameron's proposal is designed to reduce the differences between the take-home pay earned by EU migrants in Britain and that earned in their home country. There are an estimated 120,000 Spaniards living in the UK, but ironically the numbers moving there seem to be dropping. There were 45,600 applications by Spaniards for National Insurance numbers in the UK in the year up to September, down from 49,900 the previous year. No one knows how many could be affected by the proposals.
It's proposed that unemployed migrants in Britain will be barred from receiving state support, and those with work will not receive handouts such as housing benefit or tax credits until they have been in the country for four years.
"My objective is simple: to make our immigration system fairer and reduce the current exceptionally high level of migration from within the EU into the UK," he said. "We intend to cut migration from within Europe by dealing with abuse; restricting the ability of migrants to stay here without a job; and reducing the incentives for lower paid, lower skilled workers to come here in the first place.
The Prime Minister directly appealed to "our friends in Europe". "It's time we talked about this properly," he said. "And a conversation cannot begin with the word 'no'."