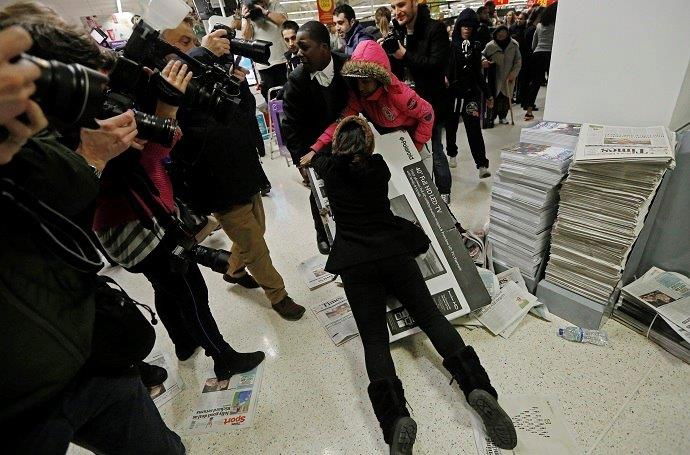 VIOLENCE and chaos broke out in stores across the UK on Black Friday (November 28) as shoppers caused mayhem while hunting for bargains.
Police were called to dozens of supermarkets to break up fights between shoppers, and three arrests have been reported in Manchester.
Black Friday – an American tradition that is spreading rapidly across the globe – is the day after Thanksgiving when many stores slash their prices to bargain levels. The sale normally begins at midnight and lasts for just 24 hours. In Spain it is a relatively new phenomenon having first started in 2012. Before that restrictive laws prevented sales except at certain clearly defined times of year. There have been no reports of trouble in Spain.
In scenes similar to ones in the USA, frenzied shoppers in the UK were pictured wrestling each other on shop floors as they fought over discounted goods. One Tesco store in Manchester had to close just half-an-hour after opening due to fighting, and it's reported in the British press that many staff have been left in tears and with black eyes.
In Greater Manchester, police described the mayhem as "totally predictable" and have blamed stores for not having enough staff to deal with the massive rush for bargains. "The events of last night were totally predictable and I am disappointed that stores did not have sufficient security staff on duty," said Sir Peter Fahy, Chief Constable of Greater Manchester Police.
"This created situations where we had to deal with crushing, disorder and disputes between customers. It does not help that this was in the early hours when police resources are already stretched."
And it wasn't just brick-and-mortar stores in the UK that witnessed problems this Black Friday. Several major websites crashed under 'huge demand' from online shoppers, including Curry's, Tesco Direct and Boots.