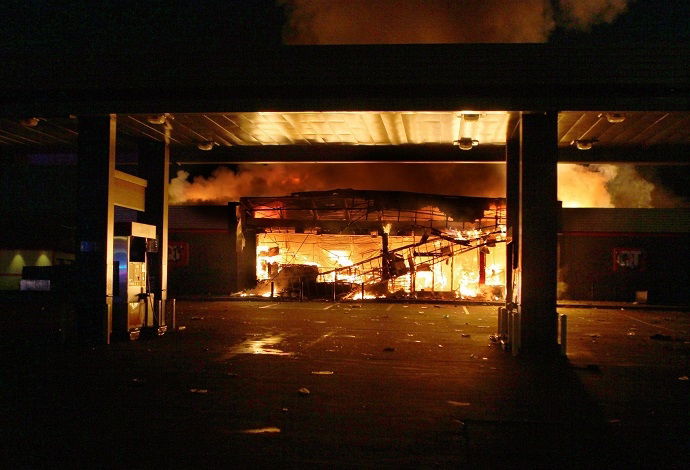 PROTESTORS looted stores, vandalised cars and burned buildings in the suburb of Ferguson in St Louis, Missouri,USA, following a grand jury decision that has caused civil unrest.
The decision not to indict a white police officer who shot dead an unarmed black teenager in August led to a night of rioting on Monday. Protestors clashed with riot police and around 80 people are believed to have been arrested in the disturbances.
There were reports of shots being fired during the night, and rioters threw bottles and rocks at riot police who responded with tear gas and flash-bang canisters. This week's riots echo similar scenes that occurred in the immediate aftermath of the Brown shooting, but eyewitnesses claim that this time around the rioting is "much worse".
Despite pleas from President Barack Obama for calm, businesses and cars were torched in the predominantly black area of Ferguson, after it was found there was no probable cause to charge police officer Darren Wilson with the August 9 shooting of 18-year-old Michael Brown.
Brown was shot and killed when he and a friend were stopped by police officer Darren Wilson in connection with a robbery, in Ferguson. Mr Wilson claims that he opened fire in self defence, but lawyers for Brown's family say that the teenager was trying to surrender when he was shot.
President Obama has called for protests to be peaceful following this week's disturbances. "We need to recognise that the situation in Ferguson speaks to broader challenges that we still face as a nation," he said. "In too many parts of this country a deep distrust exists between police and communities of colour."