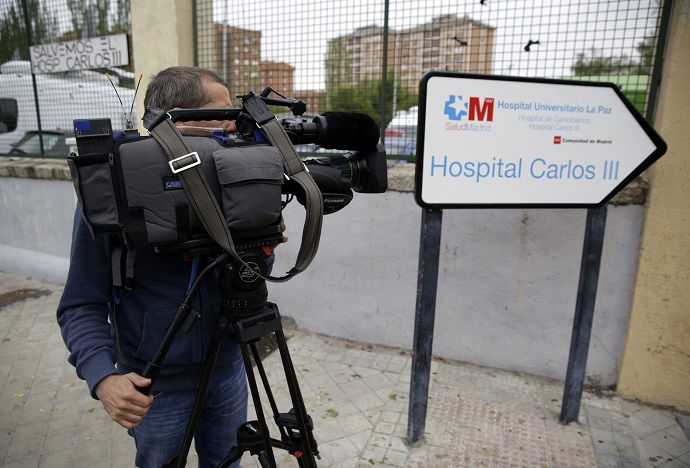 A MEDICOS Sin Fronteras volunteer is being flown back from Mali today to receive attention in Madrid following contact with ebola.
The volunteer in question is a doctor from Navarra who accidentally pricked herself with a needle while giving an ebola patient an injection. As the case is considered a high-risk one, Medicos Sin Fronteras decided to return the doctor to Madrid's Carlos III hospital for attention.
Madrid Health Council sources confirmed that only one ambulance would collect the patient from Torrejon de Ardoz airbase as the repatriation was a preventive move following contact with contaminated material rather than a confirmed case of contagion.
Ebola committee member Fernando Simon appeared before the press to give details on this possible new case. He confirmed that the volunteer would arrive in Spain on Friday and stressed that she was not showing symptoms, therefore the security measures would not be as impressive as those put in place when two missionaries were brought back in August and September.
Simon repeatedly stressed that the woman was showing no symptoms and would not put anybody at risk.
Simon, who appointed himself as ebola spokesman when nurse Teresa Romero caught the virus in Spain, said that the probability of the Navarra volunteer contracting the illness is hard to know at present, but relatively high as the circumstances are considered a high-risk factor for contagion.
The volunteer will be placed in preventive quarantine for the time being.
This is the fourth time a Spanish worker has been transported to Madrid since the ebola crisis began. On August 7, Miguel Pajares, a religious volunteer who had caught ebola, and Juliana Bonoha, a nun with a Spanish passport and Guinean origins, were admitted to Carlos III Hospital in Madrid after arriving from Liberia on a medical Air Force plane.
Just five days later the priest, who was treated with experimental serum Smapp died, becoming the first European victim of ebola. Sixty nine-year-old Manuel Garcia Viejo, a priest from Leon, died on September 25 – five days after arriving back in Spain – at Carlos III Hospital after catching ebola in Sierra Leone.
The woman arriving today was working in Bamako in Mali, one of the places in Africa the illness is present and which Spain's Exterior Ministry has advised people not to travel to.
On Thursday November 20 the area registered 413 people under observation, although few deaths have been reported.
Ebola has ended 5,420 lives so far, mostly in Africa.