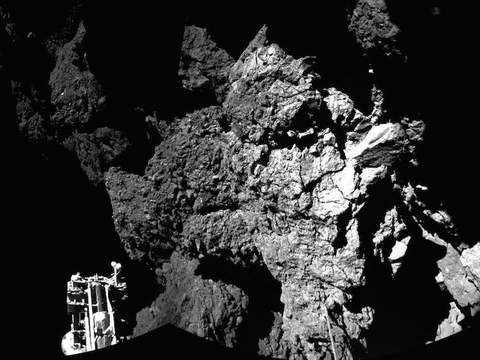 In what may seem like a scene from a science fiction movie, a probe has been successfully landed on a comet hurtling through space, marking a historical moment in history.
The Philae probe – launched by the European Space Agency (ESA) – touched down on Comet 67P/Churyumov-Gerasimenko yesterday afternoon (Spanish time) after a 10-year journey through the cosmos.
However, the status of the probe is uncertain after its landing harpoons failed to anchor on the surface, meaning the probe may not be secure on the fast-moving comet. ESA's director general has described the event as "a great, great day, not only for ESA, but… I think for the world."
Officials are exploring the possibility that the Philae probe may have lifted off the comet after touchdown, before returning to the surface and is now sitting on a soft top layer. One scientist told the BBC that it was "the most difficult landing in space history, like landing a balloon in a city centre on a windy day with your eyes closed."
The comet, which is four billion years old, is travelling through space at a rate of 40,000 miles per hour and is around four kilometres wide. The ESA mission control, in Darmstadt, Germany, celebrated yesterday as Philae touched down. Director general Jean-Jacques Dordain said that the landing is a "big step for human civilisation."
Philae's mission is to transmit data back to earth about the composition of the lump of rock, ice and dust, to determine – among other things – if the comet contains the building blocks of life. It will drill into the surface and analyse the materials left over from the creation of the solar system.
The events of yesterday – like so many Hollywood science fiction movie plots – prompted actor William Shatner, who played Captain Kirk in the popular Star Trek television series, to tweet: "Cometlanding# Hooray!!!!"