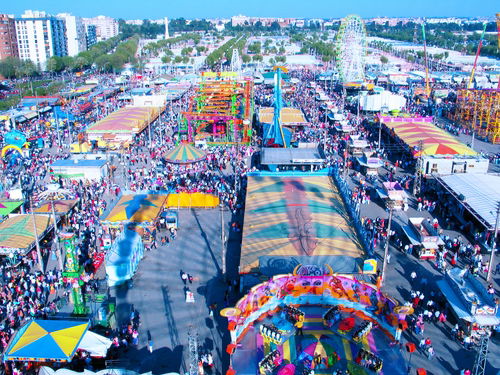 For those of us who enjoy a right good moan about the surprising appearance, as-if-from-nowhere and number of Spanish holidays, here's a handy item for the pin up board in the kitchen. The Spanish government's Official State Bulletin (BOE) have just announced the dates of 2015's eight fully national public holidays, one of which, the Assumption of Mary, falls on a Saturday.
The eight national public holidays in 2015 are:
National
January 1st: (Thursday)
January 6th: (Epiphany, Tuesday)
April 3rd: (Good Friday)
May 1st: (Labour Day, Friday)
August 15th: (Assumption of Mary, Saturday)
October 12th  (Spanish National Day, Monday)
December 8th: (Immaculate Conception, Tuesday).
December 25th: (Christmas Day, Friday)
In addition to these national dates, all regions will have at least one further weekday holiday at Easter. November 2nd and December 7th (both Mondays) are also holidays in many regions making for the traditional 'puente' long weekends.
The additional regional holidays to be celebrated are as follows:
Regional
Andalusia
February 28th: Andalusia Day
April 2nd: Maundy Thursday
November 2nd: Monday after All Saints Day
December 7th: Monday after Constitution Day
Aragon
April 2nd: Maundy Thursday
April 23rd: Saint George's Day
November 2nd: Monday after All Saints Day
December 7th: Monday after Constitution Day
Asturias
April 2nd: Maundy Thursday
September 8th: Asturian Regional Day
November 2nd: Monday after All Saints Day
December 7th: Monday after Constitution Day
Balearic Islands
April 2nd: Maundy Thursday
April 6th: Easter Monday
November 2nd: Monday after All Saints Day
December 7th: Monday after Constitution Day
Basque Country
March 19th: Saint Joseph
April 2nd: Maundy Thursday
April 6th: Easter Monday
July 25th: Saint James
Canary Islands
April 2nd: Maundy Thursday
May 30th: Canary Islands Day
November 2nd: Monday after All Saints Day
Cantabria
April 2nd: Maundy Thursday
April 6th: Easter Monday
September 15th: Patron Saint of Cantabria (Virgen de la Bien Aparecida)
November 2nd: Monday after All Saints Day
Castilla-La Mancha
April 2nd: Maundy Thursday
April 6th: Easter Monday
June 4th: Corpus Christi
December 7th: Monday after Constitution Day
Castile and León
April 2nd: Maundy Thursday
April 23rd: Castile and León Day
November 2nd: Monday after All Saints Day
December 7th: Monday after Constitution Day
Catalonia
April 6th: Easter Monday
June 24th: Saint John
September 11th: Catalonia Regional Day
December 26th: Boxing Day
Ceuta
April 2nd: Maundy Thursday
September 25th: Festival of Abraham's Sacrifice
November 2nd: Monday after All Saints Day
December 7th: Monday after Constitution Day
Extremadura
April 2nd: Maundy Thursday
September 8th: Extremadura Regional Day
November 2nd: Monday after All Saints Day
December 7th: Monday after Constitution Day
Galicia
March 20th: Day after Saint Joseph
April 2nd: Maundy Thursday
July 25th: Saint James, Galician Regional Day
November 2nd: Monday after All Saints Day
La Rioja
April 2nd: Maundy Thursday
April 6th: Easter Monday
June 9th: La Rioja Regional Day
December 7th: Monday after Constitution Day
Madrid
March 19th: Saint Joseph
April 2nd: Maundy Thursday
May 2nd: Community of Madrid Day
June 4th: Corpus Christi
Melilla
March 19th: Saint Joseph
April 2nd: Maundy Thursday
September 25th: Festival of Abraham's Sacrifice
December 7th: Monday after Constitution Day
Murcia
March 19th: Saint Joseph
April 2nd: Maundy Thursday
June 9th: Murcia Regional Day
December 7th: Monday after Constitution Day
Navarre
March 19th: Saint Joseph
April 2nd: Maundy Thursday
April 6th: Easter Monday
July 25th: Saint James
Valencia
March 19th: Saint Joseph
April 6th: Easter Monday
October 9th: Valencia Regional Day
December 7th: Monday after Constitution Day