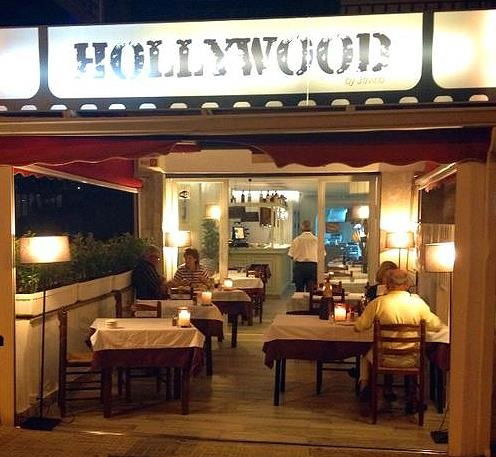 NOW reopened after undergoing refurbishment is the very popular Restaurante Hollywood by Tino's in San Augustin. Now owned by Eduardo, it is a gem hidden away just off the main road (turn right at what used to be called the Uto Palace follow the road around and you will see it just before the taxi rank on the right hand side )
Restaurante Hollywood is a restaurant that has been very popular for many years with not only the residents but also the tourists in the area and those that have holiday homes on the island. They return year after year and look at it as part of their "coming home to Mallorca ritual" and expect to see their favourite dishes on the menu each time.  For this reason the much loved favourites are alw2ays on the menu, along with seasonal extras.
The menu consists of English, Spanish and Danish cuisine so there is something for everyone and gives you the opportunity to try something you may not usually eat.
For example for starters there weretasty dishes from mackerel with mayonnaise, herring with onion, Foie Gras cucumber and red cabbage, salmon crepe, Danish meatballs,cucumber and red cabbage to melon and ham, tuna salad, prawn cocktail, asparagus, Roquefort salad, fried Camembert with blueberry jam soups and much more.
Their house speciality for a starter is herring, egg, tomato, ham, foie gras, red cabbage, hamburger with onion, Danish meatballs, cheese, cucumber, bread and butter
For the main course there was also a great selection of dishes, many simple but very tasty and cooked to perfection including  entrecote with pepper or Roquefort sauce, calves liver and bacon, chicken breast with pepper sauce, fillet steak, gammon steak and pineapple, pork or lamb chops, Danish meatballs with red cabbage, homemade Danish hamburgers with onion, or a dish named Calcutta which I tried and thoroughly enjoyed, consisting of pork medallions, pineapple, banana, potatoes and a mild creamy curry sauce, or served with rice. The fruit really complements the dish and I would certainly recommend it. Washed down with a bottle of house white it went down a treat and with a great ambiance it made for a very relaxing evening.
It is a very well priced menu and on speaking to the other customers they love the food!
There is a 15 per cent off cut out discount voucher on HOLLYWOOD'S advert at the moment to introduce you to the restaurant, and another good thing is its open all year round.
Hollywood Restaurante -Calle Margarita Retuerto,  San Agustín, Palma de Mallorca
Tel: (34) 971 400 842 – Open: 1pm to 4pm/7pm to 11pm. Closed Monday