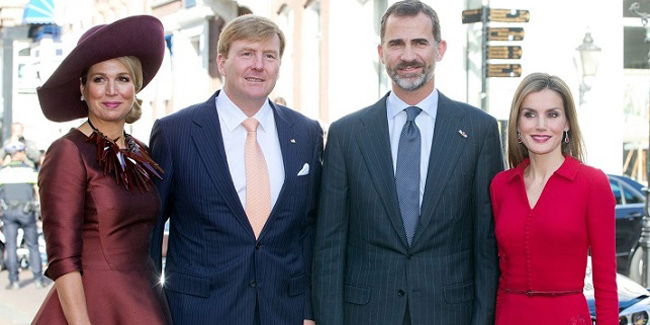 After several appearances at events in their own country this week, King Felipe and Queen Letizia of Spain arrived in Amsterdam, the Dutch capital, this morning for their tour of the Netherlands. They were greeted at Noordeinde Palace by King Willem-Alexander and Queen Maxima, whom they seemed very fond of as they exchanged embraces upon arrival.
The royal couples are of a similar age and are among both the youngest and the newest monarchs in Europe, with King Willem-Alexander coming to the throne last year and the more recent appointment of King Felipe in June this year.
Queen Letizia and Queen Maxima were last seen getting acquainted at a UN assembly in New York last month, when they were seated together. They are also both known for their fashionable dress sense as Queen Letizia, who never fails to impress fashion critics, arrived in a crimson, fitted dress whilst Queen Maxima sported a darker burgundy ensemble with matching gloves and hat, paired with a spike detail necklace. Mark Rutte, the Dutch Prime Minister, was also there to welcome the Royals to The Hague.